Kiss My Boots by Harper Sloan Quinn Davis has only loved one man in her life: Tate Montgomery. He may have disappeared nine years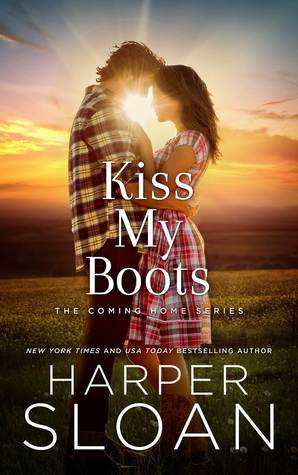 ago, but she's held herself back from getting attached to anyone else. When he reaches out to have her auto shop work on his vehicle, Quinn can't believe it.
Tate didn't want to leave Quinn years ago, but he had no choice. Now he's back in town, taking over his grandfather's position as the town's gynecologist and he's determined to win Quinn back.
I liked how determined Tate was to convince Quinn that he was going to fight for their relationship. He even takes the initiative to speak with Quinn's protective brothers to let them know his intentions. He proves, through everything he does, that he's not going to take off on her again.
I also admired how strong Quinn was. From having a poor excuse of a father , having a mother who abandoned her family, and a brother who took off for years before returning, she doesn't let it get her down. Instead she faces all her issues head-on. Even though giving Tate another chance scares her, she's willing to do it. And despite Maverick's hesitation, she demands to confront their mother so she could have closure.
=="I felt sorry for her because she left. She left and because of that she missed this," she says, lifting her hand and pointing between the three of them. "She'll never know what a strong man her eldest son is, how he protects us and worries about us like a parent and not a brother. She won't get a chance to know the proud and courageous man her middle son is. How he beat all the odds to take back the life he wanted. And, well…she won't know me. So yeah, I feel bad, because in my book, we have the whole world together and she's got nothin."==
I haven't read the first book in the series, Lost Rider, which is about Quinn's brother Maverick and her best friend, Leighton. There are references to Maverick's leaving and return in this book, as well as some past tension between Quinn and Maverick, but it doesn't go into detail. I'm curious enough about what happened and how Quinn and Maverick became close again that I'm planning on going back to read Maverick's book. That being said, while it made me curious about their relationship, it didn't take away from this book at all so I feel this can be read as a standalone.
Kiss My Boots is about second chances and family bonds. If you enjoy second chance stories in a small town western setting, you may want to check this one out.

Book Info:

Publication: August 29, 2017 | Pocket Books | Coming Home #2
Quinn Davis prefers to live her life quietly. She's the stereotypical tomboy with two overprotective big brothers who have always been there to protect her, especially from devilishly handsome cowboys with silver tongues. That is, until Tate Montgomery comes riding into town. Their first meeting, however, is far from something out of a fairy tale and only further convinces Quinn that men aren't worth her time.
The only place Tate Montgomery ever truly felt at home growing up was during the long, sweltering summer months he spent at his Gram and Paw's farm in Pine Oak, Texas. Now, Tate has returned to his childhood sanctuary seeking a fresh start—but if he's being entirely honest, he's not just back for the wranglers and Stetsons. During those summers, Quinn was a friend-turned-young-love who Tate lost when life threw him a curveball and he cut all ties to his past; but all it takes is one glance at the raven-haired beauty he did his best to forget for him to realize just how much he's been missing….