In Game for Marriage by Karen Erickson Sheridan is an artist struggling to keep the gallery open that was left to her by her Grandmother. Jared is a 'bad boy' football player…whether by rumor or truth who knows? They meet one night at an event for local businesses as Sheridan is doing a 'live' painting. Sheridan is frazzled by him when she first meets him the instant attraction is mutual, and even though Sheridan can't quitebelieve it's happening to her, she meets him for a drink after the event, lets go of her inhibitions and spends a wildly satisfying night with Jared.
"…she turned to face her admirer. … And stopped dead in her tracks when she saw all six-foot-plus, mouthwatering gorgeousness of him."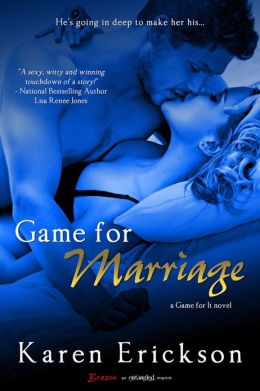 Despite the attraction, Sheridan thinks that night will be all she has of him. But Jared has a terrible public image and his publicist is convinced that Sheridan will be the fix for this. She's beautiful, talented, community minded and perfect for Jared! A 'fake' marriage is what the publicist proposes…one that will benefit Jared's image and Sheridan's art studio. It will be a true marriage, with the exception of one clause Sheridan insists on after she is convinced to do this. She is convinced that if she has a sexual relationship with Jared during their fake marriage, she will fall hard for him and be left with a shattered heart when they part ways.
"…the chance to bring her business into the next stratosphere also held massive appeal. But it was the man who had pushed her over the edge. Pretending to be married to Jared Quinn was a temptation she couldn't resist. Which was why she put the no-sex clause into the agreement…the one that would keep her strong and ensure she didn't do anything stupid."
Jared and Sheridan are still very attracted to each other though, in a way that can't be faked. Even though they are basically two strangers getting married, the feelings and attraction continue to intensify. Along with that comes their struggle to know each other and trust one another within the falseness of their marriage. As they first try to stay out of each other's way but slowly spend more time together, the marriage starts to feel more and more real. But is it, or are the circumstances dictating that with the way they have to play it up for the media and hope no one finds out about their ruse? Sheridan finds herself more and more wanting to be his wife in more ways than one, regretting the clause she put into their contract…Jared is feeling frustration with the situation too…and he is finding himself falling more and more for Sheridan.
"That stupid stipulation. Her stupid, ridiculous heart and fear of getting hurt. For once she wanted to throw all worries aside and go after what she wanted."
Can an arrangement like this stay secret for long? What will happen when the truth comes out? Their relationship might have started off unconventionally by most standards, but do they care enough and is it strong enough to continue? Both Jared and Sheridan will have to decide what's important to them.
I really wanted things to work out for Jared and Sheridan! I really liked both of these characters. Jared has had a rough time of it with the media, not always deserved, but he comes across as such a caring man with a lot of feelings inside that big body (which by the way I'd love to cuddle up to!). Sheridan is a good person who falls for the famous football player. She has no hidden agenda and she is a strong woman, but she can't quite believe this is happening to her! I liked how even though they thought of their marriage as 'fake' they worked through rough patches and were there for each other. They both obviously cared for one another even though neither would really admit it!
Willow is Sheridan's best friend in Game for Marriage and she seems to have something going on with Nick, a friend and team mate of Jared's. I hope I get a chance to read more about them in a future book!
Karen enchanted me with Game for Marriage. Not quite a modern day fairy tale, but close! You never know what can happen and who you'll end up with. Her writing is very descriptive, and Jared? HOT! He came across probably exactly as she meant him to! The sex scenes are pretty detailed, so if you like this and a fun romance that could end up either way, I'd recommend Game for Marriage!
Book Info

Publisher: Entangled: Brazen (January 11, 2013) | Series: Game for It #1
He's going in deep to make her his…
Struggling artist Sheridan Harper never imagined she'd spend a sizzling night with Jared Quinn, the smoking-hot star quarterback of her local professional football team, the San Jose Hawks. And she's even more shocked when Jared's publicist offers her a proposition: a fake marriage to keep Jared out of the gossip mags. Being that close to Jared would be too tempting, so to protect her heart, she insists on secretly including a clause forbidding sex between them.
Jared just wants to keep his starting QB job and keep it in San Jose. His reputation as a ladies' man has landed him in the headlines one too many times, but there's something about his kind, passionate new wife that tempts him beyond reason. Any sort of intimacy between them is completely forbidden, but as their bodies fall in deep, will their hearts follow suit?