In Plain Admirer by Patricia Davids, Joann Yoder knows that she can only hope to save herself from any more pain. As an Amish woman she must do as their religion tells her, but after her the death of her parents and being parceled around every four months between her three brothers' homes she is tired of not having a home of her own. They decide what is best for her and do not even ask her opinion, and of course they do not appreciate that she is a smart woman who likes to read and study. But her dreams are about to be cut short when she is fired from her well paying job at the newspaper and asked to return to helping part time in the bookstore and cleaning. All so the boss's nephew can have her job which she must also train him how to do for two weeks.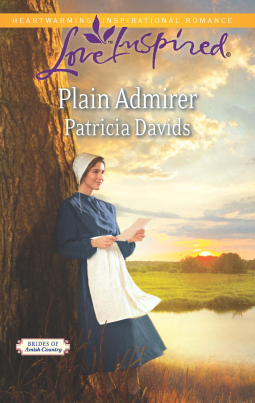 Roman Weaver knows that since his accident he has been a burden to his family. Because of their religion, they will not take any compensation for his injury or even help to pay the hospital bills from the insurance company. Now his uncle has offered him a job in the newspaper, but the only thing he knows is the work of the lumber mill in which he was raised. He knows that his family will benefit to hire someone else to help in the lumber mill while he earns more money in the newspaper, but he knows nothing about how to run any part of the newspaper.
When Roman accepts his uncle's offer he doesn't know that he is taking away Joann's job, so he does not understand her dislike of him. Joann's way to cope is to go fishing, unfortunately, her brother did not like her brand new pole and threw it in the lake, something that truly depressed her even more. To her surprise someone fished out her pole and left it with a note, and so begins her correspondence with an unknown man. Someone she can talk to honestly without feeling shame for speaking her mind.
Roman doesn't know whom the woman who lost her fishing pole is, but he is growing closer to her as their letters continue. She understands him and his problems without pitying him for being a cripple like everyone else.
As more accidents happen around the Amish community, Joann and Roman face a tough decision. Their religion teaches them to turn the other cheek and not to take vengeance themselves, which is why they never report anything to the authorities. But which more people being put into danger they must decide if telling their suspicions to the sheriff will help others or if it's turning their back on their beliefs.
If you want a sweet story with some very strong characters with deep beliefs but also deep pain and vulnerabilities, then you will like Plain Admirer by Patricia Davis.
Book Info
Publication Date: May 21, 2013 | Series: Love Inspired
Love Is Only A Letter AwaySo what if Joann Yoder's Amish community deems her a spinster? She's content to stay single. In the meantime, she's working hard to finally buy her dream house. So it's problematic when she's fired from her job to make room for the owner's nephew, Roman Weaver. His blue eyes aside, she simply can't stand him! Good thing she has the secret letters she's been exchanging with a mystery man to keep her going. But who is writing her letters? And could she possibly fall for him in real life, too?