Game for Trouble (Game for It #2) by Karen Erickson: I've read both books in the 'Game for It' series, and this one wasn't my favorite. It was by no means bad, but I'll explain more after my summary. Here goes!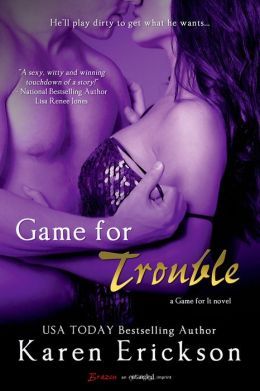 Willow Cavanaugh has been trying to break out of the 'rich girl' mold for years now. She started what has become a quickly growing catering business, and is delighted that she's on the verge of expanding. Unfortunately, that means finding the perfect property for a larger home-base. She finally finds just the right place, but there's a catch – it's owned by her ex that betrayed her and left her broken-hearted as a young adult.
Nick Hamilton has never gotten over Willow. He hates what he did to her, and has regretted it for years. But there's no way he can tell her the truth. Now that their situations have changed and they've both grown up, he can't believe he's gotten the opportunity to show her that he's always cared about her. He didn't plan it, but he owns the building she wants to lease – and to accommodate her request for a better financial deal, he'll get her to go on a few dates with him in return. Not the best plan ever, but it's better than nothing.
Willow and Nick watched as their best friends fell in love, and they both want the same for themselves. However, Willow isn't ready to forgive and forget, although a few hot & heavy encounters aren't out of the question. She can use him like he used her back in the day and not give it a second thought – or so she thinks.
Nick enjoys their newfound sexual relationship, but he definitely wants more. He wanted more back then, and he DEFINITELY wants long-term now. Now if only he can convince Willow of that while keeping her from learning the truth behind their first break-up.
The relationship between Willow and Nick was hinted at in "Game for Marriage", and I was definitely looking forward to seeing them as the focus of their own book. Reading their story was definitely entertaining, and it was very well-written, but I just didn't fully believe their attraction to each other. Nick acted poorly when he started in on his "plan" to win her back, and Willow gave in to him much too easily.
Also, if there's one trope that bothers me, it's the "I've got a secret" thing. Especially when being honest with the other person wouldn't jeopardize much and would clear the air without a lot of fallout. In this case, Nick really could've told her about their first break-up. Yeah, she might not have been truly pleased by how things went down, but it would have smoothed things out eventually – and with a lot less angst.
Overall, I really dig the characters, and it was nice to see Sheridan and Jared from the first book. I recommend with a caveat, that you read it as a pleasant diversion from real-life, and try not to look too deeply into it's flaws. The series is well worth the effort.
Book Info:

Published October 28th 2013 by Entangled: Brazen | Series: Game for It #2
He'll play dirty to get what he wants… Willow Cavanaugh would be happy if she never saw cocky football star Nick Hamilton again. Sure, their fling was the hottest she'd had, but he's way too much of a playboy to settle down with one woman. Plus, she's got her heart set on a piece of real estate for her catering business—and Nick owns that property.
Nick may be at the top of his game, but all he wants is a second chance with Willow. When he offers to sell her his commercial space if she agrees to a series of dates with him, their chemistry is so scintillating that jumping back into bed seems like an inevitability. But Willow's decided all's fair in sex and blackmail. Little does she know, Nick's playing to win…and she's the prize.