In Ask Me For Tomorrow by Elise Ackers, Dean Foster has been living life in a daze since the death of his beloved wife three years ago, he has just been going through the motions for his children's sake. He feels it's time to let go of the past and start again, which means expanding his auto repair shop, hiring a person to handle the front office and taking better care of his two children.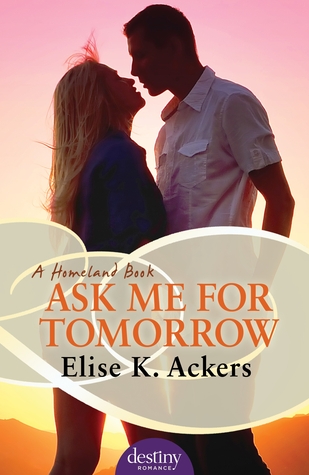 Alice Jaye has been having a hard time making ends meet for her and her son. So when the job came up for a secretary to handle all the office work in the auto repair shop she immediately applied. Everything sounded perfect, until she gets a call from school that her son was in a fight. She is prepared to go and defend her son from a bully, but ends up meeting her new boss's son and her boss when she walks into the office.
Regardless of the rocky start, Dean starts getting close to Alice's son and enjoys spending time with them. But despite her efficiency there seems to be something off about her, and there seems to be secret she is hiding. No matter how much he wants to get close to her, she always does her best to keep him at a certain distance. But she does have her reasons for the way she acts and her decisions..
The romance between Dean and Alice is slow to develop, but I love how he started to care for her and wanted to get close to her. She was the first woman to make him want to try again, and being close to her son was a great place to start. Even if he did mess up a little here and there, having the right intention in mind, but getting the wrong result out of it.
If you liked the previous books in this series you will like revisiting with Ethan & Sam and Liv & Caleb in this book. If you have not read them before, you will not feel completely left out of the story, but do note that this is the last book in the Homeland Series and you may get the previous two books whenever you want to catch up. 😉
For a sweet second chance romance and fast read, don't miss Ask Me For Tomorrow by Elise Ackers.
Book Info:

 October 14th 2013 by Destiny Romance
Three years after losing his wife, Dean Foster feels like he's living in a daze. When he finds himself attracted to his new employee, it comes as quite a shock.
Single mum, Alice Jaye, is struggling to make ends meet. She's too tired to flirt with her gorgeous new boss and firmly maintains a professional distance. But when their children bring them into close contact, keeping their relationship strictly business isn't easy.
As Alice and her son spend more time with his family, Dean's heart begins to open once more. But can he risk starting all over again?
This eagerly anticipated final book of the Homeland series is a tender, heartwarming story about letting go of the past and giving love a second chance.