Girl in the Spotlight by Virginia McCullough is quite a touching story, and in many ways, a story about time and loss and wisdom that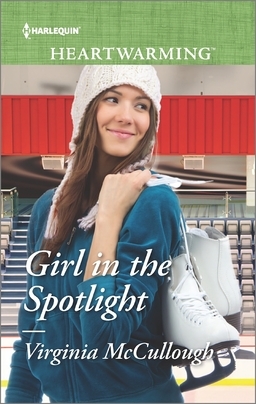 bring people closer together. Miles and Lark had a brief relationship years before the story begins, which resulted in them giving a baby up for adoption while in college. The story starts in present day with Miles, a single father sharing custody of his 8 year old daughter Brooke with his e x wife, and Lark sharing custody of her 13 year old son Evan, with her ex husband.
Miles and Brooke were watching her favorite ice skater in a tournament on television, and the ice skater looked extremely familiar. Familiar enough that he reached out to Lark to see if the skater could be the daughter they gave up for adoption.
Miles and Lark embark on a series of events in which they attend skating tournaments and are contacted by their daughter's adoptive parents, with a promise to introduce them to the daughter they gave up, once the years' tournaments are over. In the meantime, Miles and Lark have discovered a deep connection, deeper than when in college. They discover the pure joy of being in one another's company, of their respect and admiration for each other. Lark must also face telling her son, ex husband and other family members about the daughter she gave up, about whom she never told them.
What will happen to the relationships they hold most dear as Miles and Lark, especially Lark, start revealing their past? I hesitate to say more and spoil the story for fellow readers. Instead, I recommend fellow readers pick up "Girl in the Spotlight!"
Book Info:

Publication: June 6, 2017 | Harlequin Heartwarming |
When Miles Jenkins sees the graceful young figure skater on TV, he can't believe how much she resembles Lark McGee, the girl he dated briefly in college. Could this aspiring star be the child Lark gave up for adoption eighteen years ago? He has to find out.
Locating Lark ignites conflicting emotions in Miles—including regrets for what might have been and romantic feelings that take the two single parents by surprise. As they prepare to meet their daughter, this deeper connection between the two just might be the chance at love they never got.