In The Day of the Duchess (Scandal & Scoundrel #3) by Sarah MacLean, The moment Malcolm Bevingstoke, the Duke of Haven,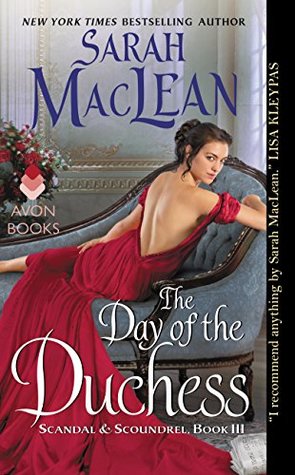 set eyes on Lady Seraphina Talbot, he knew she was his future wife. Being a man with cynical views on love and marriage, he wasn't sure if he could trust his heart over what his mind was warning him–that women are only after his title and money. But Haven found himself swept away with passion for Sera only to then have his feelings shredded after he ends up playing the fool. Now nearly three years after being estranged from his wife, searching for her the whole while, Haven is ready to give their marriage another try. If he can talk Sera into it, that is. A spur of the moment scheme to get her to spend time with him starts off promising but soon looks as though it may not work to his benefit. How will he ever prove his sincerity and his wishes for a true future with his wife?
'It was then that Malcolm realized she would always run from him. Away from love. Away from the promise of a future. And he would always chase her…
His punishment for never being worthy of her.'
Seraphina, the Duchess of Haven, gave up using her title almost as soon as she received it. After a whirlwind of secret moments and stolen kisses, she thought she and Haven would have the happiest of days. But the lack of communication between them led to things ending on a horrible note. Now Sera is ready to start her life over in London, but to do so, she needs a divorce. Something not easily granted. A scandalous trip to Parliament assured her that her husband would have no choice but to take her seriously. What she didn't expect was for Haven to ask her to help him find his next wife. Thinking he must be mad for asking such a thing of her, Sera arms herself with her raucous sisters and heads to his country estate. But being near Haven again is almost enough to put her off her narrow path to freedom. And she would be wise to not forget everything harmful they've done and said in the past.
"Spending time with you is a fool's errand. We've always liked each other too much in the moments, Malcolm. And they were never enough to make up for how we hurt each other."
Oh. My. Goodness. Sarah McLean's newest historical romance, The Day of the Duchess, was such an entertaining and heartfelt read. It had passionate romance, fun family dynamics, lots of miscommunication, and some truly wonderful bantering.
"What if we could have it back, Sera?" The whisper destroyed her, the ache in the words matching the ache in her chest. "What if we could start anew?"
It's difficult to know where to begin with this book as it was such an epic love story filled with charming, offbeat characters I thoroughly enjoyed. And the bevy of emotions we go through while Haven and Sera's tale unwinds! Sarah MacLean definitely put her characters through their paces, and us readers in the process, that's for sure. I did love watching each character work through their feelings and inner struggles, although at times I kind of wanted to, ahem, "push" them in the right direction. Especially with Sera. I adored her strength and how loyal she was to her sisters but when it came to Haven, well, somehow she didn't think she was quite good enough for him and that's where it all went south. Sera didn't see what was right in front of her, or didn't want to believe she could be worthy of love and devotion, which was frustrating. But by the end, she certainly learned much about herself and about Haven as well.
Haven started off a bit rocky for me and it wasn't until we got to see the flashback scenes when he and Sera met that I figured out where he was coming from. He completely redeemed himself in my eyes and I felt so terribly for the situation Haven and Sera found themselves in, thanks to their lack of communication and honesty. He also changed greatly by the ending, for the better, and was much more of a romantic than I at first figured, which was nice. I did get a kick out of Haven's interactions with Sera's four sisters, the Spoiled S's as they were known in society. They didn't mince words and let their displeasure over his treatment of their older sister be known, making their conversations with him hilarious and at times blatantly honest. And I should mention that one of the sisters, Sesily, will be getting her own upcoming story (per the author) with her love interest Caleb Calhoun, aka The American, who was Sera's close friend from Boston. Can't wait to see the fireworks between them!
If you enjoy historicals that have a nice blend of humor and heart, including a Regency version of The Bachelor, The Day of the Duchess would be a great choice. Particularly if you like piecing together a story, bit by bit–with which Sarah MacLean did a fantastic job here, unfolding details perfectly to enhance the story.

Book Info:

Publication: Published June 27th 2017 | Avon | Scandal & Scoundrel #3
The one woman he will never forget…
Malcolm Bevingstoke, Duke of Haven, has lived the last three years in self-imposed solitude, paying the price for a mistake he can never reverse and a love he lost forever. The dukedom does not wait, however, and Haven requires an heir, which means he must find himself a wife by summer's end. There is only one problem—he already has one.
The one man she will never forgive…
After years in exile, Seraphina, Duchess of Haven, returns to London with a single goal—to reclaim the life she left and find happiness, unencumbered by the man who broke her heart. Haven offers her a deal; Sera can have her freedom, just as soon as she finds her replacement…which requires her to spend the summer in close quarters with the husband she does not want, but somehow cannot resist.
A love that neither can deny…
The duke has a single summer to woo his wife and convince her that, despite their broken past, he can give her forever, making every day The Day of the Duchess.