In Give It All (Desert Dogs #2) by Cara McKenna, Raina Harper grew up in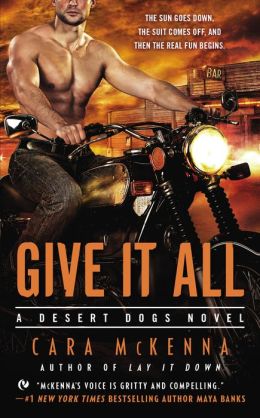 her father's bar, so being the sole owner now that he's gone is only fitting. But her small town of Fortuity, Nevada isn't as welcoming as it once was, now that there is a killer on the loose. That makes it difficult to know who to trust these days. Lawyer Duncan Welch, while handsome as hell, falls into the 'unsure' category. Raina isn't one to get emotional or think of riding off into the sunset, but Duncan is one man she just can't seem to get enough of.
'Why was it so unmistakably charming, to see this man in tatters? To see everything that made him Duncan Welch ripped away. He'd never seemed more of a stranger. And she'd never felt quite so…tender toward him.'
Duncan's tidy, well-ordered world has been tossed up in the air ever since coming to Fortuity on business. Never one to break the law, he seems to be skirting around it more and more since helping Raina and her friends try to find out who killed their childhood buddy. But more than that mystery is on Duncan's mind. Raina is the opposite of every woman he's ever dated. She's brash, straight-talking, and tough as nails. And he's more attracted to her than he can imagine. Against his better judgement, Duncan gives in and hopes he'll survive his encounter with Raina.
'Only a couple of weeks ago, Duncan had considered himself to be above them all… But he was coming to realize he was dead broke in all the currencies that mattered to Raina and her friends. Loyalty, history, trust–even among thieves.'
Wow! Give It All has something for everyone: mystery, small-town attitude, conflict amongst friends, and crazy hot lovin'.
First of all, this isn't really a Motorcycle Club book as the cover would have you believe. Yes there are motorcycles, but they aren't the focus of the story. Instead, it's about a town in chaos and a group of friends who call themselves the Desert Dogs who are trying to solve a mystery and take back their town. Now, it would probably be easier to understand everything if you've read book one, Lay It Down, but this can be read as a standalone with some perseverance.
I really loved Ms. McKenna's writing style. The story was gritty, down & dirty, and done in a realistic manner. But even though the characters could be crude and outspoken, they were also intelligent. As was the writing. From the twisting plot, to the often-times intense dialogue, I was riveted to this group of people and their situation.
I thought Raina and Duncan made such a compelling couple. Talk about complete opposites. But it totally worked. It seemed like they lived to irritate each other. Well, when they could keep their hands off one another! I liked Raina's in-your-face bluntness right away and even more so once we got into her backstory. I wasn't sold on Duncan at first where he acted so snobby. Surprisingly, he turned out to be my favorite character in the end. The amount of personal growth he endured was remarkable. Plus, how endearingly cute is it that he doted on his pet cat Astrid? So sweet.
If you love romance that's a bit rough around the edges and with a killer plot (pun intended), I highly recommend Give It All. What a wild ride!
Book Info:

Published February 3rd 2015 by Signet | (Desert Dogs #2)
A hot new Desert Dogs novel from the author of Lay It Down
Keep your friends close—and your enemies closer….
Bar owner Raina Harper can't say for sure what Duncan Welch is to her. With her small Nevada town under siege by a ruthless casino development and still reeling from a spate of murders, she knows that trusting the public face of the corporate invaders is risky to say the least. Though, damn, it's one fine-looking face.…
Duncan may be a mercenary when it comes to getting the job done, but he's no villain. In fact, the calculating fixer soon finds himself in the bad guys' crosshairs, framed and facing professional ruin. To clear his name, he'll need help from Raina and her roughneck motorcycle club, the Desert Dogs. Gaining their trust won't be easy, and the molten sexual tension between Raina and Duncan only makes things more complicated—especially since Miah Church, Raina's friend and ex-lover, would sooner strangle Duncan than shake his hand.
One thing's certain, though: If they don't deal with their incendiary attraction soon, the whole damn town might go up in flames.…