Good Catch by Jennifer Bardsley is the second book in the Harper Landing series by Jennifer Bardsley. It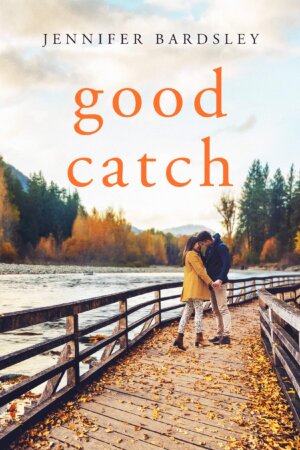 was a short book, but easy to read. It was a charming small-town romance with an enemy to lovers' troupe, which is one of my favorites. Ben and Marlo's animosity toward each other started in kindergarten and continued into adulthood. Some witty bantering along with a little craziness from some odd exes and a few parents' dares all make this a fantastic and hilarious book.
Ben Wexler-Lowrey was a hard working-low paid journalist for Seattle Times. His articles covered his hometown, Harper Landing, and surrounding areas. While attending a friend's wedding, he ends up sitting at the table with his parents and Marlo, who was his nemesis in school. He had worked hard to overcome his dyslexia in grade school, but he felt like Marlo had been stuck-up and was always giving him a hard time in school.
Marlo Jonas had dedicated her life to ballet and while in school Ben had made her miss parts in some shows due to some of his pranks. After an accident that tore her ACL, she had to give up ballet. She returned home to Harper Landing and was helping her father run the family's business, the Cascade Athletic Club. The club was losing money and about to go bankrupt. She wanted to modernize the classes they offered to increase business, but her father was resistant to changes.
At the wedding, their parents challenged them to date someone who they normally would not. Marlo's parents said she never dates anyone uglier than her and so her father dares her to date someone different and prove him wrong about appearances mattering to her. If she can prove it, he will let her start up some of the fitness classes she wants to at the club. Ben's parents say he only dates losers, so he agrees to date someone successful and pretty to show his parents that those things don't matter. They both turn to the Good Catch, a new dating app, to try and find someone opposite of their normal dates. An encounter between the two of them at the senior center leads to Ben helping Marlo with ideas for a survey for the club. As they work together, they start to see each other's real character and realize they judged each other wrong.
This was a delightful book and I actually enjoyed it more than the first book in the series. I found the characters to have more depth and enjoyed seeing them help and build each other up. Ben's character had such low self-esteem, but Marlo saw his true self and helped him to view himself better. All the dates they went on using the Good Catch and the exes' escapades made me laugh all the way through the book. This was a memorable book that left me with a smile at the end.
Book Info:

Publication: October 5, 2021 | Montlake | Harper Landing #2
Former ballerina Marlo Jonas has all the right moves—except when it comes to men. Her latest boyfriend? A cheater. In the wake of her breakup, her father has a novel idea for her: try dating men for who they are and not how they look. This makes it easy to ignore her hot nemesis, Seattle Times reporter Ben Wexler-Lowrey.
Ben's take on romance means spending time with interesting women whose personalities might sparkle more than their looks dazzle. But Ben's mother thinks he can fare better. He's never tried online dating before, but what could be the harm in putting himself out there?
As Marlo and Ben both suffer through a series of hilariously awkward dates, they're left feeling empty. Marlo needs someone empathetic enough to soothe her past hurt. Ben needs someone who truly sees him for the man he is.
These enemies love to loathe one another; could that mean Marlo and Ben are foes in love?