Just for the Holidays by Adriana Herrera, book 2 in the Sambrano Studios series, mixes a second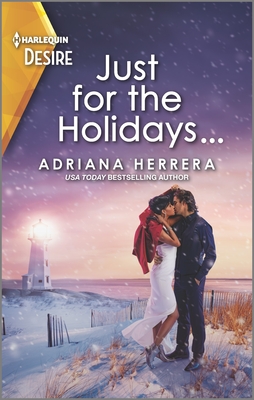 chance romance with Caribbean traditions in a refreshing and organic way.
Perla wants to have a high-class cast for Sambrano Studios' new film. Which means that the one who must play the main role is Gael Montez, who happens to be her ex-lover. Despite still having open the wounds that their breakup caused 6 years ago, Perla decides to visit Gael to convince him to accept the role. But what was supposed to be a few hours visit turned into (thanks to a snow storm that cancelled her flight plans) several days, with their long nights, staying at Gael and his family's home during the Christmas holidays… as Gael's fake girlfriend!
Gael is Hollywood's Latinx star of the moment. Unfortunately, to achieve this he had to leave behind Perla, whom he met in college and fell hardly in love with. Gael has issues regarding the abandonment of his father when he was a child. This affected —and still affects— his relationship with Perla, because he believes that he doesn't have what it takes to make her happy.
At the time they were in college, Perla was an insecure girl with low self-esteem, influenced by her mother. Now, she's in control of her life, but is unwilling to allow her heart to break again. Yet Gael is her Achilles heel, so she can't help falling for him a second time.
The most interesting thing about Gael and Perla's love story is that, although the sexual chemistry is impossible to deny, it's the love between them that takes control of the plot. Likewise, and although it seems contradictory, the structure of their relationship is one of the most balanced that I have read in Harlequin Desire.
Something that draws the attention of the story is how the Latino culture — in this case, Puerto Rican — is present throughout the book. Both the main and the secondary characters show the culture without effort and everything related to Puerto Rico, from its gastronomy to some present and historical data (brought to the story with fictitious names), are well documented. As a Puerto Rican, I can assure you that.
A delightful book based on emotions and a lot of Caribbean flavor is what the second installment of the Sambrano Studios series brings. And the alcapurrias taste so good!
Book Info:

Publication: November 30, 2021 | Harlequin Desire | Sambrano Studios #2
Being snowbound at Christmas leads to holiday sparks in this Sambrano Studios novel by Adriana Herrera.
She's snowed in at Christmas…
with a man she must resist!
Casting director Perla Sambrano knows Gael Montez is the perfect actor for her new film project. As long as she forgets his oh-so-tempting allure and keeps her heart out of it. Because their chemistry's no act and she needs to be careful…
The Montez men hurt the women they love. Or so Gael believes. Keeping things professional with Perla is the only way to protect her. Until a snowstorm strands them together, leading to an unplanned Christmas fling that lands them both on the naughty list!