In Good Girl Complex (Avalon Bay) by Elle Kennedy, Getting a college degree is the last thing Mackenzie "Mac" Cabot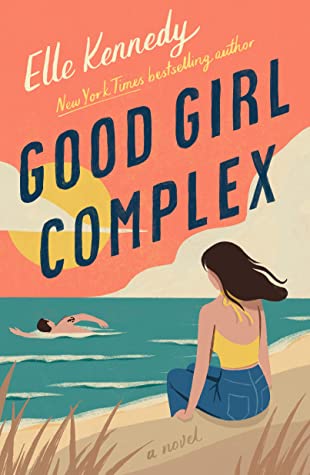 wants to do considering she already started her own successful tech business in high school. And she knows how bad it sounds that she wishes to throw away a college experience fully paid by her wealthy family. Poor Mac, right? She's aware that she's had privileges others can only dream of. But she'd give most of it away to have someone *see* her for who she is–not the beautiful girl in her powerful father's photo ops. When Mac arrives at Garnet College, she surprisingly finds just that person. None other than town heartthrob Cooper Hartley. A guy who brings out the fearless, adventurous woman Mac hides inside. The person she truly wants to be.
'Cooper Hartley has depths that are dark and treacherous, and that reckless part of me–the impulses I keep buried deep–wants nothing more than to dive in and explore.'
Cooper has had years of dealing with all the pampered, rude students who blow into town for a few years, make his and his friends' lives a living hell, and then ride off into the sunset with their trust funds. He works hard for every dime he makes. And Cooper has a plan for his future. One which doesn't involve falling for one of the "clones" as he and the townies call the rich kids. But when he meets Mac in a bar at a particularly low point, Cooper figures a bit of fun couldn't hurt. Although as he playfully argues with her, he realizes that she's nothing like the rest of the clones. And that as they forge a relationship, surprising everyone around them–and themselves–what Cooper is holding back from Mac might tear them apart.
'And in that moment I vow, even if it takes me the rest of my life, to show this girl she didn't waste her heart on me.'
With all of the New Adult angst, drama, and smoldering desire you can handle, Good Girl Complex proved that opposites really do attract–and that those differences can make things very complicated.
'One overheard conversation.
A single devastating admission.
Quick as blowing out a match, my heart went numb.'
Elle Kennedy is known for bringing the heat to her romances and this was definitely no exception. The sparks flew immediately between Mac and Cooper as soon as they laid eyes on one another, even though they couldn't have been more different. But I loved that their opposing backgrounds weren't enough to deter them. Because underneath Mac's polished facade and Cooper's bad boy persona were two people who just wanted to feel loved and accepted for who they were–not who everyone thought they were or wanted them to be. And that longing to be their true selves as they acknowledged, even embraced, each other as is, that's what formed the strong bond between Cooper and Mac.
The drawback for me (aside from two characters, Preston and Heidi) was the lying, cheating, and even a revenge plot that was going on. I won't get into specifics as it's too involved and something that really needs to unfold as the story progresses. But all who were involved in the dirty goings on had opportunities to come clean. Of course they didn't. Cue the drama and arguments. Although it did get resolved in a much better way than I expected, thanks to the numerous secondary characters who butted into the situation.
Speaking of the ancillary cast, as much as I enjoyed Mac and Cooper's snappy conversations and steamy attraction, their friends and family added so much depth to the story. And it seemed to fit well, given that this was set in a rather sleepy, smallish (fictional) coastal town in South Carolina where everyone knew each other and there weren't many secrets they could hide. The door was also left open for Cooper's twin brother Evan and a few of the others so I'm hoping that this will be a series, as it seems to be pointing that way.
QOTD: Have you read any of Elle Kennedy's New Adult novels? If so, any favorites to recommend?
Book Info:

Publication: Expected publication: February 1st, 2022 | St. Martin's Press |
She does everything right. So what could go wrong?
Mackenzie "Mac" Cabot is a people pleaser. Her demanding parents. Her prep school friends. Her long-time boyfriend. It's exhausting, really, always following the rules. Unlike most twenty-year-olds, all she really wants to do is focus on growing her internet business, but first she must get a college degree at her parents' insistence. That means moving to the beachside town of Avalon Bay, a community made up of locals and the wealthy students of Garnet College.
Mac's had plenty of practice suppressing her wilder impulses, but when she meets local bad boy Cooper Hartley, that ability is suddenly tested. Cooper is rough around the edges. Raw. Candid. A threat to her ordered existence. Their friendship soon becomes the realest thing in her life.
Despite his disdain for the trust-fund kids he sees coming and going from his town, Cooper soon realizes Mac isn't just another rich clone and falls for her. Hard. But as Mac finally starts feeling accepted by Cooper and his friends, the secret he's been keeping from her threatens the only place she's ever felt at home.