Pregnant by the Wrong Prince by Jackie Ashenden is how I would want to write a Presents if I had an ounce of writing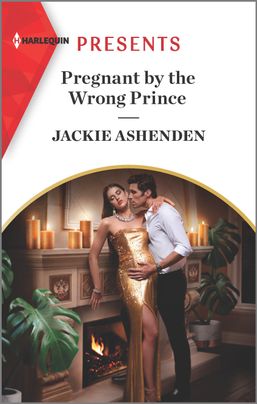 talent. The drama, emotion, journey and incredible feeling it left me with when I reluctantly closed the last page was memorable. It was also my last read for the year and I couldn't fault it.
'STOP.'
The voice came from behind, an avalanche of dark sound, crashing through the cathedral and silencing the bishop utterly.
Riveting drama dives right in! Capturing the spotlight of Lia's wedding is not the delivery of her vows to her betrothed Crown Prince Matias. No, it's his older, powerfully handsome half brother and Prince Regent of Santa Castelia; Rafael cutting the wedding short by booming STOP then carrying her out of the church over his shoulder! Rafael has discovered Lia is pregnant with his child after their one unforgettable night of forbidden love and there is absolutely no way he's letting Lia marry his brother!
Each chapter was so full and not a word was wasted. Jackie Ashenden very, very cleverly used dialogue and brilliantly crafted flash backs to paint the picture and tell the tale of Rafael's and Lia's love and unplanned pregnancy. Together they grew and it was plain as daylight Rafael had met his match with Lia. She'd had enough of being the perfectly preened Queen to be, a position she had been raised for all her life. She'd portrayed herself as dull as wallpaper and Matias had no interest beyond his duty. During their whiskey drinking and cigar smoking nocturnal meetings Rafael learnt that Lia was far, far from the dull wallpaper that she let everyone think she was.
Whisking Lia away to his mountain home Rafael was tasked with figuring out how to repair the fallout he'd caused with his family and his country. At the same time it was the perfect opportunity to breakdown barriers and have some perfect moments to face their yearnings and succumb to their love for each other. Finishing up with the most beautiful epilogue. Not a word was spoken. I felt it!
Literally could not put this story down. I loved Rafael, he was the perfect gruff, dark and thrilling hero. Lia was a fire cracker. The entire book was exciting and page turning. Action packed the whole way and I hands down loved it. The adventure in the first chapter with the wedding being stopped and it just motored from there. It was 100% Jackie Ashenden's style of gritty, emotional and action packed drama. I'm here for it and I loved it!
Book Info:

Publication: Jan 2022 | Harlequin Presents | Pregnant Princesses #2
Stopping Princess Amalia's arranged wedding is the kind of scandal Prince Regent Rafael usually avoids. But Rafael has just discovered Lia is carrying his baby! His own illegitimacy haunts him, and he refuses to let the past repeat itself!
Lia was molded to be the perfect queen, and her sole rebellion was her night in Rafael's powerful arms. Her engagement was for duty alone, so she never dared dream of anything more. The problem is, when it comes to Rafael, more is all she craves…
Book 1: Crowned for His Christmas Baby by Maisey Yates
Book 2: Pregnant by the Wrong Prince by Jackie Ashenden
Book 3: The Scandal That Made Her His Queen by Caitlin Crews
Book 4: His Bride with Two Royal Secrets by Marcella Bell