In The Greek's Marriage Bargain by Sharon Kendrick ,Xenon has the perfect opportunity to get back his estranged wife, Lexi back to his side and bed. He needs Lexi by his side at his niece christening and for the sake of his ailing grandmother. However, this time he will not let her do the walking.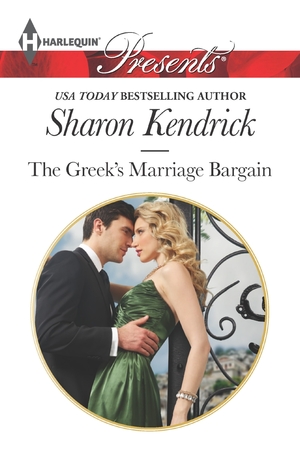 The reasons for walking out of her disastrous marriage are still fresh on Lexi's mind and now she needs her estranged husband's help to settle her brother's debts.She has to play the good Greek wife and pretend to be someone she is not for a few weeks to save her brother.
Soon Lexi and Xenon find that the separation between them has not dimmed the simmering attraction between them. Can their mutual passion and attraction erase the big reason which tore them apart and give their marriage a second chance-one that will last forever..??
"I'm waiting, Lex," came the sound of his impatient voice in her ear.
"You know that I don't want to do it," she said. "And I'm asking you to reconsider."
"Ochi. Can't be done. You will do what I want you to do."
"You're a ruthless man, Xenon Kanellis."
"Insult me all you like," he said. "But my heart will not be swayed by your pleas."
"You have no heart!"
"Then waste no more of my time with your futile protestations. Give me your answer, Lex—is it yes or no?"
There was a pause while she tried to fight it, but she realized she had no choice. "Yes," she breathed reluctantly.
"Good."
The Greek's Marriage Bargain is a beautifully written romance with an awesome hero. Sharon Kendrick has created a gentler hero this time and he was so much different and wonderful from the usual typical alpha heroes. Lexi was very cynical towards the beginning but towards the end of the story,she managed to completely win me over. Xenon was the best part for me in the story because he was gentle,caring and completely in love with Lexi from the starting. The story had a predictable plot but I found it an enjoyable read because of the writing and the main characters. Though the ending did not bother me that much because I liked the realistic touch in the story,people looking for the fairy tale element may be disappointed in the end and it may spoil their whole reading experience.
Overall The Greek's Marriage Bargain,is an enjoyable read with an awesome hero.Some readers may not like the missing fairytale element towards the end.
If you love Sharon Kendrick and like a little bit of angst with a realistic touch towards the end,then you will love this book.
Book Info:

Published September 17th 2013 by Harlequin Presents (Book 3177)
Renewing their vows?
Xenon Kanellis is not a man who fails, and certainly not a man who gets divorced. Now with the perfect opportunity to get his wife back where she belongs-on his arm and in his bed-his immaculate record will be restored.
Lexi Kanellis needs her estranged husband's help…even if that means playing the good Greek wife for a few more weeks. The island sun is no match for the reignited heat between them, but no amount of passion can erase the memory of what tore them apart