Offside (Heller Brothers #5) by Kelly Jamieson: According to outsiders, the children of Steve and Sela Holbrook grew up happily, with the best of everything. Steve was a megastar hockey player that now owns the California Condors, a professional hockey team. Sela was a semi-successful model that doted on her two very successful athletic sons, while being the perfect trophy wife. Their daughter Honey was and is a threat to Sela's beauty, so she received no encouragement or love while she was growing up and her father was too busy to care. Overtime, Honey began rebelling, attempting to grab her parents' attention in any way possible. By the time she was nineteen, she was a party girl, using her endless supply of cash to have a good time, sleep around and ultimately,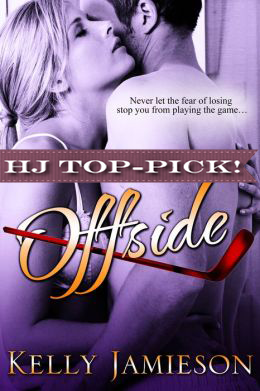 embarrass her parents. The paparazzi followed her everywhere and published her wild and sometimes unclothed antics regularly. Finally, her parents got tough and cut her off. Now, she is a responsible woman, with a degree from Berkeley in Social Welfare. She has kept herself out of the limelight for a few years and is hopeful that her new job as Programming Coordinator with the California Condors foundation, will negate her past and prove that she is a smart, independent young woman.
Professional Hockey Player Matt Heller used to be involved with Honey, during her wild child years. In fact, he was the one that let her parents know that she was truly out of control and needed help desperately. Of course Honey felt betrayed, because they were in love and in her mind Matt lost faith in her. Since Matt is rehabbing an injury that almost cost him his life and is unable to play, he spends his time fundraising and making personal appearances for the team. He never thought that Honey would be in his life again and moreover, working with him side by side. Honey is equally as surprised to learn that Matt is her primary project.
The chemistry between Honey and Matt is scorching. After years of separation, they are still madly in lust and love with each other. They begin getting to know one another again, which quickly evolves into mind-blowing sex. Working together and playing together results in a relationship that they never thought could exist.
Of course many things are going on that push and pull on Honey and Matt. It takes some time for Honey's co-workers to accept her and realize that she is a very capable coordinator. Matt's finally playing again, which causes him angst as well as success. The paparazzi are back, wrecking havoc on both Honey's and Matt's lives. Luckily, their love is able to keep them together.
I am a huge fan of Kelly Jamieson and always look forward to reading her books. This is an amazing novel. Not only does it have the perfect balance between complex plot, sexiness and angst, it has raw emotion that caused me to shed some tears at the end. All the characters, with the exception of Sela, are warm, likeable and sincere. I found myself cheering for not only Honey and Matt, but for a paternal relationship between Honey and her dad. Matt's family was truly there for Honey and I believe the scene between his mom and Honey will stay with me for a long time to come. Read this book, it will make you a better person.
Book Info:

Expected publication: October 1st 2013 | Series: Heller Brothers #5
Honey Holbrook is trying hard to leave her past behind her and make a new life for herself. A former spoiled, rich, wild child, her attention-grabbing antics were tabloid fodder for years. Now she has a new job, a new home, and is staying out of the limelight. But the first day of the new job doesn't go like she expects when her boss and coworkers make it clear she's not wanted there, and the first project she has to work on is with pro hockey player Matt Heller.
Matt and Honey had a wild and wicked fling eight years ago when he was attending summer development camp for the California Condors – the NHL team Honey's dad owns. But the relationship ended when they argued over the loser friends Honey hung around with and Matt had to return to college hockey. Before he left, Matt talked to Honey's dad about Honey's exploits. She felt betrayed and rejected, and threw herself even harder into her partying lifestyle while Matt tried to carve out a career for himself in the NHL.
Now Matt's back with the Condors but recovering from a serious injury that has changed his whole outlook on life. He's not impressed to be working with Honey Holbrook, although her cleaned up image arouses his curiosity. And arouses something else….