Grip by Kennedy Ryan mostly fast forwards to eight years after Flow, where Bristol and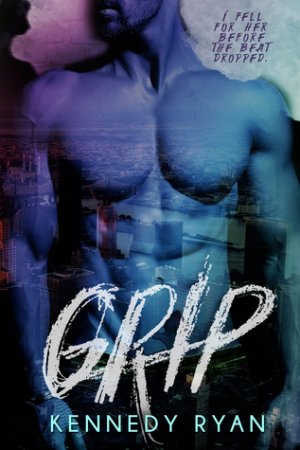 Grip meet and fall for each other. Bristol has become quite the music mogul as she helps her brother Rhyson to start a new label. She's also finally convinced Grip that she should manage his music career and they're getting ready to release his first album.
Bristol and Grip have found a way to maintain their friendship, but Grip still wants and needs more. They are an integral part of each other's lives, personally and professionally. They also drive each other nuts, since Grip continues to pursue her while she tries to build up her walls and fight their chemistry.
"And what kind of man are you?"
His expression sobers, his eyes a mesmerizing night I lose myself in.
"The kind who would do anything to keep you." He brushes a thumb across my cheekbone. "Be sure because I won't let you go after."
Their chemistry and connection haven't abated over the years and it's a constant struggle not to be together. Finally admitting to and giving into their attraction only solves one problem, but creates others they will need to face. They may be perfect for each other, but their families have other ideas and so does social media.
"I'm sorry."
"No, you're not."
His wicked laughter fills the car until his shoulders shake and he bends over the steering wheel.
"Yes, by all means wreck us. That would be a reprieve," I mumble, looking out the window to study my surroundings.
Grip is an angsty roller-coaster with plenty of tension, anticipation, heat, and banter. Kennedy Ryan doesn't pull any punches and directly address difficult social issues, ethnicity, and interracial couples. Ms. Ryan created endearing and entertaining characters. Grip is meant to be read after Flow. Fans of Gail McHugh and Abbi Glines will enjoy Grip.

Book Info:

Publication: Published March 2nd 2017 | Kennedy Ryan | Grip #1
***This is not a cliffhanger***
Resisting an irresistible force wears you down and turns you out. I know. I've been doing it for years.
I may not have a musical gift of my own, but I've got a nose for talent and an eye for the extraordinary. And Marlon James – Grip to his fans – is nothing short of extraordinary.
Years ago, we strung together a few magical nights, but I keep those memories in a locked drawer and I've thrown away the key. All that's left is friendship and work.
He's on the verge of unimaginable fame, all his dreams poised to come true. I manage his career, but I can't seem to manage my heart.
It's wild, reckless, disobedient. And it remembers all the things I want to forget.
Make sure you grab FLOW, the FREE prequel first! FLOW is chronicling the week of magical days and nights that will haunt Grip & Bristol for years to come. GRIP is the full-length conclusion of their story.