The Deputy's Holiday Family by Minday Obenhaus: I very much enjoyed The Deputy's Holiday Family, particularly because of the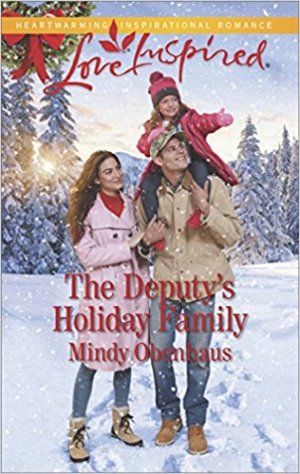 opportunity to read another story set in beautiful Ouray, Colorado.
Lacie has custody of her young niece, Kenzie, following the passing of Kenzie's mother. Lacie decides to return to Ouray with Kenzie to visit Lacie's mom and enjoy a special old fashioned Christmas in the small town. This is complicated by Lacie's mother's refusal to allow any Christmas joy in her home due to past heartbreak.
Lacie and Matt, who were the best of friends in high school, encounter each other again after several years. When Matt starts to see features in Kenzie that make him think he might be her father, he starts spending even more time with Lacie and Kenzie. Though his growing attraction to Lacie is also partly responsible. Kenzie and Matt quickly form a special bond. Lacie is faced with the tough decision about whether to stay in Ouray or to look for a new job elsewhere following the holiday.
To find out what happens next for Lacie and Matt, I recommend fellow readers pick up the Deputy's Holiday Family! It's definitely a "feel good" read!
Book Info:

Publication: November 21, 2017 | Love Inspired | Rocky Mountain Heroes
Took blurb and link from Amazon because Goodreads does not have a description posted yet.
Lacie Collier is determined to give her niece, Kenzie, the best Christmas! But Lacie's got her work cut out for her when they spend the holidays at her Christmas-averse mother's home. With his focus on keeping his own mother's holiday traditions alive, sheriff's deputy Matt Stephens is surprised to see his old friend Lacie back in Ouray. He's always regretted that their friendship became strained after he started dating her sister in high school. But it's pure shock he experiences when he sees Kenzie, whose uncanny resemblance to Matt is undeniable. This Christmas will bring new memories for Lacie and Matt…if they can open themselves to the possibility of love.