In Gypsy King (Tin Gypsy #1) by Devney Perry, With a background in journalism and something to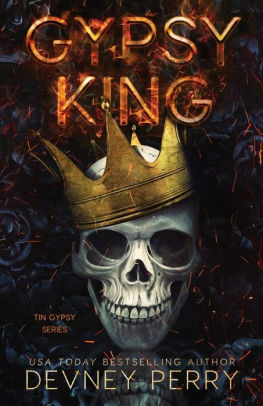 prove, Bryce Ryan moved to Clifton Forge, Montana as the new co-owner of the local newspaper. Running the business with her father has been great. But she's looking for a big story to prove her mettle. The Tin Gypsy Motorcycle Club suddenly closing its doors raises some red flags for Bryce. Especially when a woman is murdered in town with ties to the club. Yet no one is talking. Determined to get to the bottom of it all, she crosses paths with the former President of the club, Dash Slater, and is equal parts attracted and ticked off. No matter how much charm he lays on, Bryce isn't willing to give in to Dash's seduction. But somehow she winds up investigating the murder side by side with the bad boy. And falling for him more and more every moment they're together.
'Could I get over his criminal past? Could I forget that he'd done violent, vicious things I could barely fathom? Yes.
Because he wasn't that man anymore. Not to me.'
Dash put a lot of work into making as clean a break from the MC life as he could and has since focused on his garage, a totally legit, very profitable business. He might miss a lot about his days with the Tin Gypsies but he doesn't miss looking over his shoulder constantly. Although it's a habit that maybe Dash should've kept. Because a local murder ties his father to the crime, potentially putting their club secrets out there for the world to see. And one pesky but stunning reporter just won't let it go. Dash tries to get ahead of the situation with Bryce but it seems she's always one step ahead of him. Before he realizes it, the heart that he's kept under lock and key since losing someone close to him as a kid is being torn open by Bryce. And it might just turn out to be the best thing that's ever happened to Dash.
'She was tough. She made me laugh with her wit and sass. She challenged me. And when she wasn't pissing me off, she was turning me on.'
Crazy good! Gypsy King is further proof why Devney Perry is one of my go-to authors for all things contemporary romance. The wonderfully flawed characters. The exciting plot. The battle of wills and scorching hot romance. How can you go wrong?
'All the foolish days and nights I'd spent wondering if I'd end up an old maid had been for nothing. The timing simply hadn't come together.
I'd been waiting for my Gypsy King.'
I'm not kidding when I say that Devney Perry has become one of my favorite authors over the past year or so. She writes romance in a way that is relatable and absolutely chock full of genuine emotions. With this new series, Tin Gypsy, she added in a disbanded motorcycle club that went clean but still had some threats creeping up on them here and there. As a fan of well-written MC romance, I couldn't wait to get my hands on this book. And I can honestly say that Perry did the genre justice. It was dark but still had some humorous moments. There were cool stories of the MC's roots and what they did over the years. And, yes, the guys still had their motorcycles, which were described in glorious detail. (lol)
Bryce and Dash were a hoot to watch whenever they were together. They were an opposites-attract couple who came from very different backgrounds and life experiences, that's for sure. I really wasn't sold on Bryce at first, to be honest, though. She was *so* tenacious in her pursuit of the truth behind the Gypsies leaving their lifestyle in the dust that it was a wee bit off-putting at the start. Getting to know Bryce's career in Seattle did help shed some light on her drive to succeed. Plus, watching her get wound up when Dash was all charming and toying with her was super fun. Bryce did prove to have loads of courage and smarts by the end of the story, making her a feisty heroine I could definitely cheer on.
Dash was something else. Tough, mischievous, sexy as hell, loyal and kind, the bad boy with a golden heart might have grown up rough but he knew how to take care of those he loved and would do whatever it took without hesitation. Dash had a few moments where he reacted quickly to a situation and ran for cover without dealing with it first which kind of irked me. But like with Bryce, when the details of his past came out, I got it. He wasn't great at the emotional side of things–big surprise for a bad boy, right?–but Bryce didn't let him get away with it for long and put him (and the other remaining Gypsies) in his place. Which was just what he needed. Whether he would admit it or not.
Edgy and enticing, Gypsy King was a fast-paced novel that kicked off Devney Perry's new series with a resounding bang. If you haven't had the privilege of reading her stellar work yet, this would be a wonderful place to start.
Book Info:

Publication: October 29th 2019 | Devney Perry LLC | Tin Gypsy #1
The former Tin Gypsy motorcycle club has everyone in Clifton Forge, Montana convinced they've locked their clubhouse doors and ripped off their patches. Everyone but Bryce Ryan. There's more happening at the club's garage than muscle car restorations and Harley rebuilds. Her instincts are screaming there's a story—one she's going to tell.
As the new owner of the small town's newspaper, Bryce is hungry for more than birth announcements and obituaries. When a woman is brutally killed and all signs point to the Tin Gypsies, Bryce is determined to expose the club and their leader, Kingston "Dash" Slater, as murderers.
Bryce bests Dash match after match, disappointed her rugged and handsome opponent turns out to be an underwhelming adversary. Secrets are exposed. Truths defeat lies. Bryce is poised to win this battle in a landslide.
Then Dash breaks all the rules and tips the scales.
One kiss, and she's fighting to save more than just her story. She's fighting to save her heart from the Gypsy King.