Miss Lottie's Christmas Protector by Sophia James is the first book of the Fairclough Foundation's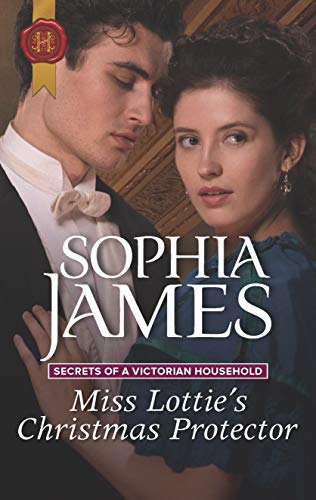 collaboration by four different authors.
Lillian Fairclough is a widow and manages the Fairclough Foundation along with help from her two daughters, Charlotte and Amelia. Her son, Silas, went to America and no one has heard from him in six months. Each family member will have their own book in the collaboration, and they will be written by different authors. I like the idea of the authors working together to write about one family and their charity organization and can't wait to read the other authors stories. Miss Lottie's Christmas Protector is the story for Charlotte, Lillian's youngest daughter.
The foundation needed money and Amelia was willing to sacrifice herself in marriage to man she didn't love. Lottie tried to discourage her and when that didn't work, she came up with a plan to keep her sister from marrying a man she didn't love. She recalled the last time Amelia was happy was after a ball where she had danced with Mr. Jasper King. What better way to help her sister find happiness than to find Mr. King and point him in the direction of Amelia? Lottie had a crush on Mr. King when she was younger and had listened to any news of him over the years. She had heard that his sister was planning a Christmas charity event and thought he might attend so she makes plans to attend. When Lillian and Amelia leave to go to a family Christmas house party, Lottie stays behind to put her plan in action.
Jasper had been in a serious accident several years ago which had injured his leg severely and left him in constant pain. The woman he loved had left him to marry another and now he had no plans of loving another. He did not want others to witness the episodes of pain. His curiosity causes him to follow Lottie when she leaves the party and ensure she makes it back to the foundation. Once they arrive, they learn that one of the women from the foundation had been abducted and they start investigating.
As they try to solve the mystery of who is abducting the women, their attraction towards each other becomes undeniable. Will they solve the mystery and overcome their fears so they can have their HEA?
This was a great book to start the series and I am looking forward to reading more of the adventures of the Fairclough family.
Book Info:

Publication: November 1st 2019 | Harlequin Historical |
A Christmas mission…
…with the scarred and brooding gentleman!
Part of Secrets of a Victorian Household. Working in her family's charity foundation for destitute women, caring but impulsive Miss Lottie Fairclough is desperately trying to find a missing woman. She's roped in family acquaintance Mr. Jasper King to help her, having been equally impressed and annoyed when he rescued her from perilous danger. As she gets to know the injured entrepreneur, it seems he needs her just as much…