Half-Hitched (The Wrong Bed) by Isabel Sharpe is a very good summer read. Actuary Addie Sewell is a creature of habit. She does the same thing each and every day and thrives on it. The nonsense that surrounds her world by living in New York City does not affect her at all. Addie is fanatical about routines, however at almost thirty years of age, she realizes she is in a rut and needs to engage in a little fun outside of her comfort zone. She is attractive and has a good heart.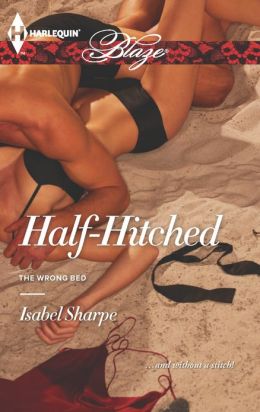 Thirty-five year old, successful sea captain Derek Bates owns his own yacht and charters tours for a living. Presently, he and his crew are based in Hawaii. Derek is the black-sheep of his family, choosing a life at sea over the family business. He has a reputation as a womanizer, which is entirely untrue. Derek is good looking and hot.
Addie and Derek met many years ago through mutual friends, twins Sarah and Paul Bosson. Now Paul is getting married and some good friends and family are spending some quality time together before the big wedding day on Saturday. Sarah is bringing Joe, her best friend of ten years. Paul's good friend Kevin Ames, a hot guy Addie and Sarah both crushed on during high school is joining them as well.
Once Addie and Derek see each other again, they feel a few sparks, even though Addie is really looking forward to seeing Kevin again, hoping to rekindle an old passion.
Weddings do strange things to people. In an effort to change her routine ways, Addie decides to seduce Kevin one evening. She walks into Derek's room by mistake and the sparks ignite. They end up spending a lot of time together and begin falling in love. After years of looking for Mr. Right, Sarah realizes that Joe is the one for her and Joe admits to being in love with Sarah throughout their friendship. And Kevin's antics prove once and for all that he is kind of scummy.
The story primarily takes place on the coast of Maine and through the author's words, the reader is able to envision the waves crashing upon the shore, the seagulls flying above the ocean and the tiny little alcoves within the rocks.
Book Info
Publication Date: July 23, 2013 | Series: Harlequin Blaze (Book 761)
In a rut?
Follow Addie Sewell's
10-step plan!
1.    Refuse to be the Scary Cat Lady. Don't buy a cat.
2.    Step out of your comfort zone.
3.    Use a friend's wedding to start your New Spontaneous Life.
4.    Prepare to seduce The One Who Got Away (TOWGA).
5.    Avoid Derek Bates. Sure, he's hot…but he's not why you're here!
6.     Seriously. Stop looking at Derek like he's sex-on-a-stick.
7.     Seduce TOWGA by slipping into his bed naked. (You can do it!)
8.    Don't panic—you accidentally ended up in Derek's bed instead.
9.    Okay, maybe you're enjoying being in Derek's bed a little too much. But he does feel really, really incredible.
10.    Abort plan. Just go with it.
The Wrong Bed.