Please note, first of all, Until You Dare by Roni Loren is Part 1 of an 8 part Not Until You e-serial. Now, I'm not exactly sure what an e-serial is, but I'm guessing that it's an e-novella that is going to be released in smaller parts.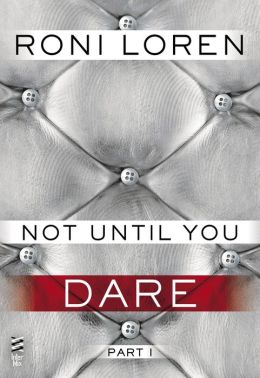 This first installment is about 63 pages so it will barely whet your appetite if you're looking for a sexy AND short read. Well, it's certainly short and I suppose its sexy but there is no Sexy Time. But it is definitely a great start and I enjoyed reading it!
We meet Cela and she's JUST graduated from Veterinary School (awesome!). She's coming home and is trying to juggle too many things in her arms when she happens upon her delectably hot neighbors in the entryway of their apartment building, who offer to take her out on the town to celebrate. I liked Cela well enough but I wouldn't say I fell in love with her. You can tell right away that she's a good person and that she studied hard while getting her degree, since this first part is from Cela's point of view. We also see that she was raised in a pretty strict Catholic household and that she's pretty sheltered. She actually decided on this college because she would be able to move away from her stifling family. She loves them very much but she also realizes that she wasn't able to do much living with them around. Her upbringing is so ingrained into her thinking that she realizes that even though she moved away so that she could live a little hasn't worked out because she hasn't done anything. She lived as she would have lived at home: doing what was right and doing what her family would have wanted her to do. Its a little sad, actually. But once Cela sees a problem, she wants to fix it. So she decides to take her sexy neighbors up on their offer to show her a good time and to celebrate her graduation… and then, the REAL fun begins!
Ian Foster (Foster) and Pike are Cela's super sexy neighbors. We get a little insight into Foster since some of the story is told from his point of view. I really liked Foster and Pike. They are a lot like Yin and Yang but I suppose that's how the author wanted it. Pike is jokey and light and fun, in addition to being blonde and kind of a bad boy. Which makes sense because he's a drummer in a popular local rock band (cool!). Foster, on the other hand, is all dark and mysterious. Dark looks (glances) and dark looks (hair, eyes). And he's always wearing a suit so he's definitely not laid back. He is Mr. Buttoned-Up! What I really liked about Foster is that he's looking for more. He and Pike can get pretty much any girl they want (and regularly do) but Foster wants more than a one-night-stand and threesome with his best pal/roommate. The difficult part for Foster is that he's a dom. He has a membership in the area's exclusive BDSM club and loves it there. But he's looking for that special someone who he can be with and who he can be himself with. I can't explain it but I really like when the smokin' hot guy is looking for love and just can't find the girl he wants. I guess I like going on that quest with them, plus, it's nice to know that hot dudes don't always have it all together!
The three of them (Cela, Foster and Pike) together are pretty great. They all have a great dynamic. Cela is sweet and normal and a little shy. Foster is quiet and intense but very confident. Pike is gregarious and funny and likes to joke around and tease a lot. Things are a little awkward between them at first but they quickly smooth everything over and start getting along really well and Cela is able to really open up to them.
Again, there is no Sexy Time in this installment but when the three of them go to a club, it gets a little steamy. I think that once we actually get to some action between these people, that this will be a really hot book. I would recommend this but only if you can buy all of the sections together. This first part wasn't hot enough to keep my attention but if I could just continue on into the next one, I'd have been pretty happy. As it is, this first one is a great introduction to the characters. I hope I get to see what happens next!!
Book Info: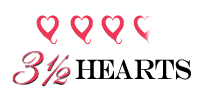 Publisher: InterMix (June 11, 2013) Series: Not Until You Part I
From the author of the Loving on the Edge novels comes a story of a good girl who discovers that once you dare to cross some lines, it's hard to turn back…
On the night of her graduation, innocent veterinary student Cela decides to play a game of Never Have I Ever with the two hot neighbors she's been quietly crushing on for the last year. Always the prim and proper student, Cela thinks she's earned a wild night before she has to move back home under the watchful gaze of her family. But what starts out as a simple game is about to take a very sensual turn…
Ian Foster is tired of playing games. With his membership to The Ranch, an exclusive BDSM resort, and a musician roommate named Pike who brings home groupies with a taste for ménage, Foster has a life most guys would kill for. But lately, his need for dominance is no longer satisfied via one-night stands. He craves the full surrender of one woman–a submissive of his own.
But when his quiet, sweet-as-sugar neighbor shows up at their door with a bottle of tequila and an invitation, Foster decides he and Pike may have time for one more fling…
Includes a bonus excerpt of Roni Loren's novel, Caught Up In You.
More to come…Don't miss Not Until You, Part II