In Halloween at the Graff (Holiday at the Graff #1) by Sinclair Jayne, ever since her world imploded and she lost everything she'd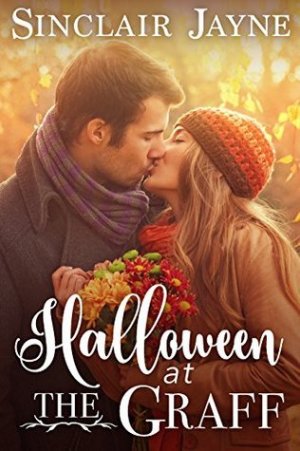 worked so hard for, Walker Wilder is doing everything she can to pick up the pieces. Landing a job at the historic Montana Graff hotel as the events director is just the beginning, and she's determined to do a good job starting with getting Calum Quest and his spirit-hunting TV crew to help her fill rooms during the off-season. However, the more time she spends with Calum, the more Walker finds herself falling in love. Will happy ever after finally happen for her, or will her fear of being hurt by another man keep them apart?
"At least you weren't convicted."
There is nothing better than a powerful opening line to draw a reader in immediately, and that is certainly what Ms. Jayne has given readers with the first line of the prologue, which had me reading quickly determined to discover what the heroine did that has her needing to start over. However, it was from the moment the hero and heroine met that had me absolutely charmed by this story because their chemistry is intense and instantaneous and definitely hard to deny, no matter how much the heroine tries. Yet, how can she trust a man after all that she's been through?
As for the dialogue, it was intense due to the main characters back stories; back stories that brought tears to my eyes, especially that of the hero since he's had so much loss in his life. Yet, in saying that, the hero is brilliant at what he does and is hard-working, confident, smart and I liked how determined he was to help the heroine and win her over, so they'd have a shot at happy ever after. I also liked what happens with the spirits and the main characters reactions to what is happening, especially since there are moments that have big effects on both Walker and Calum. While the heroine, she's determined to start over and do everything she can to show she has what it takes to succeed in her new position, which she was very lucky to acquire. I also liked the tight bond she had with her twin brother and that he would do anything for her, especially since her world has imploded and she lost everything including her career and her professional reputation. Will her life get back to how it was? Will she get back the things she lost that were important to her? Yet, what I liked most of all about the heroine was her ideas for Halloween. They sounded very interesting and definitely something people of all ages in the town could enjoy.
"This is important. Connection. Calum and Walker."
"I'm thirty-two."
He just stared at her. "Am I supposed to run screaming away and I missed my cue."
Walker laughed. "No that's when the mummy you hide in our cemetery jumps out to bite you."
Overall, Ms. Jayne has delivered a wonderful and heartfelt read in this book where the chemistry between this couple became more intense with every interaction, especially in the moments when they're dealing with spirits and their ghostly ways. The way this story ended had me sympathizing with the heroine because of what happens between the hero and heroine to cause their relationship to go awry, but I enjoyed how things turned out for them. Certainly, the hero is determined to win her back and I loved the moment they talked about her fears of the past and present and how every loss the hero suffered has shaped his career. However, it was the epilogue that wrapped this story up brilliantly, as Calum is determined to prove to the heroine that he's not going anywhere and that he wants her in his life forever. I would recommend Halloween at the Graff by Sinclair Jayne, if you enjoy holiday-themed stories, the mysterious strangers trope, the mistaken identity trope, or books by authors Eve Gaddy, Joanne Rock, Karen Foley and Joan Kilby.

Book Info:

Publication: September 25th, 2017 | Tule Publishing | Holiday at the Graff #1
Starting over at thirty-two is never fun, especially in a town the size of a postage stamp. Chasing that with having to beg for a job she's wildly over-qualified for and Walker Wilder's pride is really burned. But now that she's the new events director for the historic Montana Graff Hotel, she's tasked with creating buzz and traditions to fill rooms during the off-season. Halloween may not scream touristy, but hiring a spirit-hunting TV crew will definitely grab some headlines… But when the sexy spirit hunter shows up, he haunts more than her dreams.
Calum Quest is done. He's created an entertainment empire by chasing something he's never seen and is tired of asking questions with no answers. His life has been defined by ghosts he needs to exorcise, yet, when a red-haired, grey-eyed beauty with a body that melts his mind pours him a double shot of Laphroaig whiskey and challenges him to one more round, how can he say no?