In Handful of Sky by Tory Cates, Being one of the few women in the world of rodeo has been eye-opening but rewarding for Shallie Larkin. She has taken a bigger role in the family business since her father passed away, helping her uncle contracting their livestock and helping promote the local rodeos. Their goal is to one day make it to the national finals and watch their broncs and bulls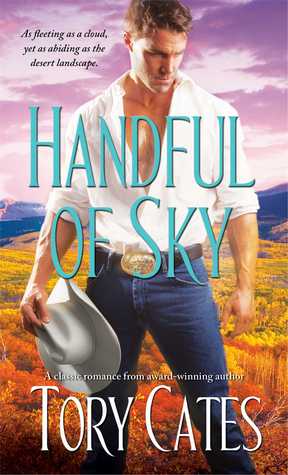 give the cowboys a run for their money.
'Looking into those eyes for the first time told Shallie everything she would ever need to know about the secret to this man's success at bronc riding–he was united with the wild mounts he rode.'
Shallie's whole world shifts when she meets Hunt McIver, the legendary champion with killer looks. She's smitten right away but still finds Hunt infuriating at times, more a product of her own insecurities than anything else. They feel the sparks fly between them but when they start to work together to make both their dreams come true, will it prove too much for Shallie and Hunt to handle?
"Then, with your free hand, I want you to reach up and grab yourself a great big handful of sky and hang on. Because that's rodeo, boys. You may lose that rigging, but you'll always have the sky."
Handful of Sky gives us a look into the rough-and-tumble world of rodeo, showing both the best and worst the sport and lifestyle have to offer. This novel, first published in 1982, has been reissued with a wonderful new cover so a new generation of romance readers can enjoy.
Fans of sweeping western romance will enjoy Tory Cates' writing style. She did a great job describing the surrounding ruggedly beautiful landscape as well as the main character's emotions. And there was just enough of the rodeo lingo to make it sound authentic without going overboard.
Our hero and heroine were so similar and yet so different at the same time. I thought their deep love of rodeo was a great connection between them. Shallie and Hunt were equally passionate about the sport and the magnificent animals the cowboys hope to tame, both having grown up full immersed in that world. However, Shallie worries that Hunt is a womanizer like so many cowboys on the circuit, especially after meeting his grandfather. This creates friction in their romance and leads to soul-searching on both their parts.
I recommend Handful of Sky for readers who love a classic romance with a bit of heat and a lots of handsome cowboys.
Book Info:

Published October 29th 2013 by Pocket Books (first published 1982)
In the first of a sweeping Western romance series written by a Rita Award-winning author, a woman tries to make her way into the rodeo world—and lassos the affections of a handsome cowboy. Shallie had to make her way in rodeo, a man's world, and Hunt McIver's help was invaluable to her. But the man himself remained a mystery. Why would he help a woman whose motives he didn't trust? Yet together they warmed the western nights and built a dream beneath a sky as wide and beautiful as the love that bloomed between them….