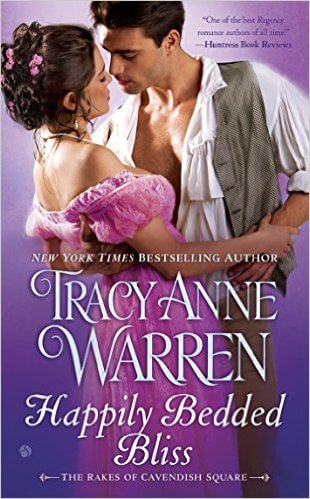 In Happily Bedded Bliss (The Rakes of Cavendish Square #2) by Tracy Anne Warren, Lady Esme Byron spends most of her days taking care of her beloved menagerie of pets, mostly strays in need of convalescence and a good home. But while out on a walk one fateful day, she happens upon a very handsome, and very naked, man sleeping by a pond. Esme is compelled to sketch him, not realizing it would soon be seen in public and force her into marriage with Lord Northcote. Just when she fears that theirs will be an ill-fated match, she finds that her growing feelings for her husband are stronger than she could have dared dream.
"Say it," he urged.
But she couldn't, even though she felt the emotion in every cell of her body.
"Why?" she whispered.
"Because I want to hear the words on your lips again. Tell me you love me, Esme. Say it."
Gabriel wants to laugh when the six Byron brothers demand that he marry their sister Esme. Especially since he had no knowledge of her drawing him. Still, he knows it is the right thing to do. Not that he is one to believe in always doing the right thing, considering all of London views him as the devilish man he truly is. But Esme turns out to be a beautiful, strong-willed woman who completely captivates Gabriel from the start. As a man who believes in lust not love, can his new wife change his views on the subject? Or has his past thoroughly deterred him from ever openly loving someone?
'Only think of how his friends would laugh if they knew that he, a man reputed to be one of the most heartless rakehells in all of London, had been brought to this state–ensnared in a paroxysm of lust and longing, and all for his own wife!'
A sensual sketch, a naive young woman, an infamous rakehell, and six overbearing brothers proved to be a recipe for a truly creative and engaging historical romance by the one-and-only Tracy Anne Warren.
A 'forced marriage' trope can be a tricky story to pull off without it seeming like the hero and heroine are either too different or too much at odds. I'm happy to say that in this case, Gabriel and Esme may have been polar opposites in personality and background, but they were still very much compatible. Plus they had wonderful sexual tension between them which was pretty evident in their quick witted conversations/arguments. It was clear that they each had a mind of their own and wouldn't back down, much to their own detriment at times.
Esme was a heroine that I thought was just the right mix of naivety and curiousness. She was young and acted that way by showing her lack of worldly experience, but she wasn't childish or selfish. I loved that she had a strong affinity for animals and could connect with them easily. In a way, Esme was able to use that empathy and her caring nature to help Gabriel heal from his troubled childhood which was nice to watch. But I think I enjoyed it most when she was voicing her opinion and standing up for herself with her (typically) grumpy husband.
Yes, Gabriel was a tad moody and grumpy, but he had cause to be, given his past. Based on how well it all turned out, I ended up forgiving him for the more frustrating things he did. 😉 I thought it was fitting that after his years of carousing and giving in to his every desire that a feisty, virginal young lady should be the one to change his ways. It was fun to see how Esme brought out the best in Gabriel and to see him so desperately resist his feelings. Their romantic scenes especially were where I thought he was the most honest and showed the true depth of his character.
Happily Bedded Bliss was a fun romp across England with a bunch of captivating characters, both human and animal. If you enjoy romances with a bit of lightheartedness balanced with desire and drama, then definitely check this one out.
Book Info:

 March 1st 2016 | by Signet | The Rakes of Cavendish Square #2
From the New York Times bestselling author of The Bedding Proposal comes a seductive new novel about the most devilishly dangerous men in London…
When Lady Esme Byron happens upon a gorgeous naked man sleeping beside a secluded country lake, she can't resist the impulse to sketch him. But when her highly improper drawing is mistakenly revealed at a party, she finds her once-pristine reputation in tatters.
Gabriel, Lord Northcote, may be a notorious rakehell, but he is still stunned to find himself accused of despoiling a duke's sister—especially since he's never set eyes on her. When Esme's six irate brothers demand a hurried trip down the aisle, he has no choice but to comply. He thinks he can forget about his inconvenient bride but Esme Byron is no ordinary woman and Gabriel is about to learn just how unforgettable she can be.