Happy Girl Lucky by Holly Smale: Hope Valentine is actually her namesake in every conceivable way: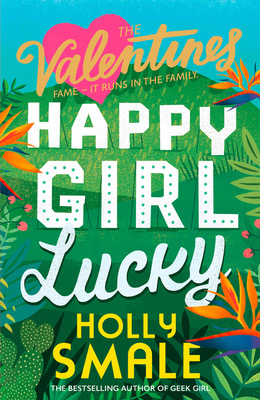 bringing hope to her self-absorbed Valentine family, and die hard romantic Valentines Day type dreamer who literally stages whole scenes in her mind, playing out her perfect romantic encounter including re-takes of real life. The 4 Valentine children have been abandoned in their ludicrous mansion as their super-star mother has gone into rehab and their super-star father is in LA finalising a film production which is ultimately the cover story for a messy divorce that the media are all over.
Bound by Valentine 'law' however, Hope is not allowed to enter the actual world until she is 16, which she is 4 months shy of turning. And so romantic fantasies, occasional home schooling and hanging out with her imaginary friends are pretty much all she has going on. Determined to find 'the one,' Hope inhales the daily horoscopes like an archaic predictive scroll, believing in her heart of hearts that her destiny will surely begin in a short matter of time – 4 months to be exact, if not sooner judging by the way her stars are playing out. And so prompted by her mothers premier party and her horoscope suggesting she has a social occasion where 'the one' may be found, Hope sneaks herself into the venue with her brother Max's help, only to overhear her sisters fighting and saying some all out nasty things about her. Promptly fleeing into her imaginary world and literally the party, Hope finds herself desperately trying to get on a train to go home, but gets stuck in the tube doors only to be rescued by Jamie. As fate would have it, it appears her one has truly arrived and indeed, her destiny is playing out like she always imagined.
Combining both narrative and screenplay text was a fairly creative way of enabling the audience to literally live inside Hope's mind; obsessed with romantic films, particularly which star her parents, and everything that is associated with whimsy and love. And for the most part this worked. However, as the chapters unfolded it was clear that hoping for a 3rd dimension to Hope's characterisation simply wasn't coming, and whilst a big tension bomb was dropped when her sisters were fighting, nothing actually eventuates. Hope remained 2 dimensional, remained painfully dreamy and whilst this does kind of come crashing in towards the end, it takes a stranger to literally point out the obvious – she is incredibly neglected, has no friends, has never been shopping or had a sleepover, has never been to school or participated in anything remotely like every other young person has.
Fundamentally, despite the clever malapropisms, I found this to be incredibly sad. At times I questioned if this was a satirical take on first world white privileged problems, but the reality is, neglect is neglect and so couldn't quite stomach the idea that it was using exaggeration to make a social comment on the resultant mental illness. Ultimately therefore, there was an inherently sad undertone that sat at the end of every one of Hope's internal screen-plays, every one of her re-takes. And whilst there is a sense of it all coming together towards the end, it just felt a little late and definitely not enough given the extreme fantasy world we had been living in.
Overall, this is a painfully entertaining read and at times you will feel like one of those people who laugh at someone else's expense and whilst there is a little comeuppance at the end, I just don't believe Hope got her just deserts despite the kind of Happily Ever After that eventuates.
Book Info: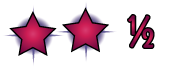 Publication: 2nd February 2021 | Harper Collins Children Books | Valentine #1
Introducing The Valentines. Fame – It Runs in the Family!
Sisters Hope, Faith and Mercy have everything: fame, success, money and beauty. But what Hope wants most of all is love, and it doesn't matter how far she has to go to find it.
Except real-life isn't like the movies. Even if you're a Valentine . .