Seducing His Secret Wife by Robin Covington is the story of a 'quickie Vegas wedding' that turns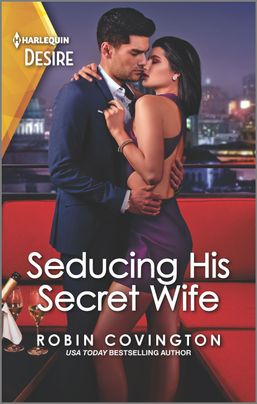 into a lifelong love, and is the second book in the Redhawk Reunion series.
Justin Ling loves a good poker game and sex with an adventurous woman, both traits that his business partner and best friend Adam Redhawk knows about and likes for Justin to keep on the down low, so as not to scare off their investors. But what happens in Vegas doesn't always stay in Vegas especially when that something is wining, romancing and marrying his exciting one night stand who turns out to be none other than Adam's little sister Sarina Redhawk!
Sarina and Justin don't regret their night together, but without the influence of alcohol they definitely would not have gotten married. Neither is looking for a long term commitment. They're both interested in a quiet divorce, one that won't tip off the tabloids to their misadventure just as the Redhawk/Ling tech business is right on the edge of some critical investments. But somehow they can't seem to keep their hands off each other, even though they're waiting for the paperwork to dissolve their mistake. Will they change their minds in time to give their marriage a real chance?
I'm really loving this series by Robin Covington! The premise starts with three siblings, Adam, Sarina and Roan who were separated from their parents and each other as part of the government's shameful treatment of indigenous families. Sarina's experience was particularly difficult being moved to different foster homes, a failed adoption and eventually aging out of the system with few choices and joining the army. Now she's finished her last tour and out of the army, ready to see what the future has in store. After being found by Adam's investigator ( in Taking on the Billionaire) and reuniting with her siblings, she's tentatively learning to trust and feel part of the family.
This feeling intensifies with her marriage to Justin (even though it's temporary) and his insistence that she leave the fleabag motel she's been staying in and move in with his grandmother, a feisty Irish woman who gladly accepts Sarina into her home. Justin has issues with his parents, who've never appreciated how hard he's worked to become a self-made businessman but his Nana has always understood and accepted him and he knows she's the perfect choice to make Sarina feel wanted and loved.
Of course he is quite happy to show Sarina how wanted she is and there are several sexy scenes between them that threaten to make their divorce that much harder to go through with. Eventually after some rocky moments, they get their well deserved happy ending. This romance has everything I want, with characters to care about, both found and real life siblings, and the feeling of being invested in everyone's happiness, not just the couple in question. I'm looking forward to Roan's story next!
Book Info:

Publication: Feb 01, 2021 | Harlequin Desire | Redhawk Reunion #2
A wife is the last thing he wants…
And the one thing he needs.
Justin Ling knows a steamy Vegas tryst with his best friend's little sister is reckless. And an impromptu wedding? Disastrous! But when they return home, passion prevents him from calling it quits with Sarina Redhawk. To keep his investors and family off his back, the tech entrepreneur must keep their marriage secret. Will his arrangement with the strong-willed beauty backfire?