In Happy-Go-Lucky by L.H. Cosway, Maisie Wilkins enjoys her job as a researcher at James & Peterson Investigations and even likes the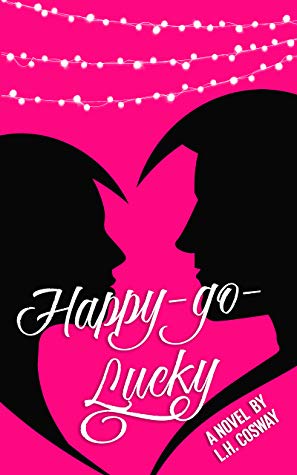 majority of her coworkers. Her friendly vibe is usually well received but being perpetually happy can have its downfalls. Take her supervisor Cameron Grant, for example. He is one seriously handsome man. But he is also grumpy, blunt in his criticism, and never makes an effort to get to know his coworkers–least of all her. Maisie tries to respect his anti-social ways most of the time. But when Cameron makes an unexpected appearance at their office Christmas party, she goes out of her way to make him feel included. What Maisie didn't know was that the attraction she had always brushed aside for him was actually reciprocated.

'However much he might frustrate me in real life, when Cameron kissed me, I forgot all about how aggravating he could be.'
When Maisie and Cameron end up in bed together that night, partly in a drunken haze, she knows she's just made things complicated for them when they go back to work after the holidays. Especially so now that they have to work on a case together. But Maisie trudges forward, putting her everyday smile on full display while she tries to hide her feelings for Cameron. As their investigation gets more difficult–and dangerous–she knows there is going to come a time when she can no longer hide the relationship they keep trying to push aside. Maisie will have to decide if she should take a chance on what she and Cameron share, or if it will only serve to create more problems than happiness.
'My parents called me Happy-Go-Lucky as a little girl, but I never really knew the true meaning of the phrase until I found this man who shone a light on all the best and worse parts of me.'
So. Much. Fun. Happy-Go-Lucky was an adorable office romance between an awkward heroine and curmudgeonly hero who had more in common than they realized.
"You are relentlessly cheerful," he said, like it both confounded and amazed him.
"And you are relentlessly grumpy. We're a match made in heaven. At the very least we cancel each other out."
This is my first time reading L.H. Cosway's work and let me just say that she did a fantastic job of creating a rom-com with characters you want to know in real life and by weaving in a few intriguing twists and turns in Maisie and Cameron's investigations. The pacing of the story was pretty much perfect, especially once our likable couple gave in to their attraction after the infamous office Christmas party. And with this being set in England, it was good fun getting to know the area around Torquay and meeting all the, ahem, colorful locals. (lol)
I had a great time watching Maisie and Cameron's attraction simmer and grow. It was complicated where he was basically her supervisor, but there was no stopping what was happening between them. Cosway really capitalized on their job together investigating to show all those subtle changes that happened to them individually and as a couple. We saw how broody Cameron eventually let his true self shine, and how Maisie went from helping others–often to her own detriment–to standing up for herself while still keeping her cheerful, quirky, caring persona. I also really dug the other employees at the PI office. There were some who enhanced Cameron and Maisie's lives and of course some others who were definitely not good people. But it all added up to one enjoyable bunch of characters who frequently had me giggling.
If you enjoy romantic comedies rife with sexual tension, with a few serious, poignant moments, and lots of personal growth, Happy-Go-Lucky will surely be a winner for you.
Book Info:

Publication: Published August 16th 2019 | Pub: L.H. Cosway |
Every workplace has that one person you don't want to mess with.
At James & Peterson Investigations, that would be Cameron Grant: sullen, grouchy, intimidating, oh yeah, and sexy as hell. He can make your soul wither with a single disapproving glare. And he never, ever socialises with his co-workers.
This is why Maisie Wilkins, happy-go-lucky ray of sunshine, can't fathom why Cameron finally decided to show up at their annual office Christmas party. Every year he received an invite, and every year he failed to attend. But not this year.
Curious as to why he's there, Maisie can't resist sitting next to Cameron. Before she knows it, she's had one too many drinks and is drunkenly hailing a cab back to his place. Office party flings are not something she normally does, but despite his intimidating character, Cameron has a charm she can't resist. Or maybe it was just those five gin and tonics blurring her judgement.
Whatever the reason, Maisie now has to navigate the awkward, tension filled waters of sharing an office with someone she's slept with.