Happy & You Know it by Laura Hankin: If you feel like clapping your hands because you have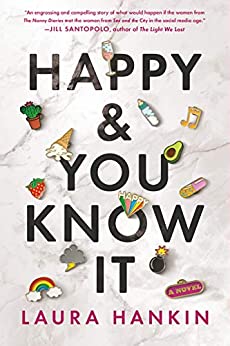 somehow managed to navigate the soul-destroying mother-guilt paradigm that has emerged full swing, then Laura Hankin's book is for you. Likewise, if you haven't managed to escape unscathed, you will find some frightening realities within that may just be the catalyst for change or at least a little self-forgiveness. In many ways, Happy and You Know It, is a political satire that shines a light on the hegemonic discourse that not only can women do it all, they can have it all. And of course, lift the rug at the corner a little and you will find a very normal mess underneath.
After co-creating the number one song on the charts by a band she was summarily kicked out of (for a hotter, sexier woman), Claire is thrown something of a strange life-line by her cousin Thea; to be the twice weekly musician at an all-ridiculously rich New York Mother's playgroup. For Claire, this is a far better option then returning to Megachurch town with her tail between her legs and a mother who is only concerned about what the neighbourhood would think than protecting her vulnerable and ostracised niece and by proxy Claire. And from the onset, it appears as though this could be the Bad Mummies slash Stepford wives combo in pleasantville we really have believed existed all this time. Except of course it doesn't, any more then the rich privileged perfect lives of unicorns and rainbows does. As Claire finds herself heavily involved and embraced by the mothers, we travel down a funny journey of friendship, class, sisterhood told through the chaptered perspectives of Claire, Whitney, Gwen and Amara. And whilst there are 6 +1 in the group, Ellie, Meredith and Vikky are almost side-line characters who only serve to add up the whole, or maybe demonstrate that there is strength in numbers.
Thematically, Happy and You Know it, cleverly demonstrates that despite an abundance of wealth, no one really has it all, and perhaps women have even less, when other women judge them for living however it is they live, including parenting choices that are made with the best intent. Ultimately, it is difficult to step away from the herd when it may be the only thing that keeps you sane as you try your very best to present a 'perfect' pretence – or at least, that's what Joanna, the black sheep of the group, achieved at the cost of her marriage and privileged lifestyle as she serves as a reminder to the 6+1 that you need to do whatever it takes to maintain the image; sleep with a husband you don't love, tolerate gambling and marital affairs and buy into organic self-help remedies that are more likely to be ADHD medication then provide any real solution. It is Claire, the central non-mother and outsider that manages to crack through the façade and with her honesty ends up ripping up the rug, exposing the mess they're all in all the while struggling to come to terms with her own self-worth and purpose.
Hankin's brilliant pacing, clever action kernels and climax enabled the feminists undercurrents to shine and hammer home that despite a gratuitous amount of wealth, women can't have it all, they can't do it all and whilst money certainly helps, it can really only afford some good drugs and other quick fix band-aids that serve to dull the pain of loneliness and self-doubt. Summarily, for all mothers and non-mothers, sisters, aunties, cousins and friends, I highly recommend you grab a copy to read and then share so that you can support each other through the desperate moments social media convinces us we shouldn't have.

Book Info:

Publication: May 19th 2020 | Berkley |
After her former band shot to superstardom without her, Claire reluctantly agrees to a gig as a playgroup musician for overprivileged infants on New York's Park Avenue. Claire is surprised to discover that she is smitten with her new employers, a welcoming clique of wellness addicts with impossibly shiny hair, who whirl from juice cleanse to overpriced miracle vitamins to spin class with limitless energy.
There is perfect hostess Whitney who is on the brink of social-media stardom and just needs to find a way to keep her perfect life from falling apart. Caustically funny, recent stay-at-home mom Amara who is struggling to embrace her new identity. And old money, veteran mom Gwen who never misses an opportunity to dole out parenting advice. But as Claire grows closer to the cool women who pay her bills, she uncovers secrets and betrayals that no amount of activated charcoal can fix.
Filled with humor and shocking twists, Happy and You Know It is a brilliant take on motherhood—exposing it as yet another way for society to pass judgment on women—while also exploring the baffling magnetism of curated social-media lives that are designed to make us feel unworthy