Scoring Position by Joanne Rock: The Ramsey boys are at is again, or is it still. Wes Ramsey has been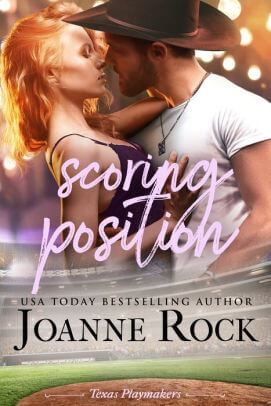 after Emma since they were in high school, but now years later will he be able to catch her again?
Emma Garcia had lead an adventurous life for sure when her mom was around, but now she was settled in Last Stand was it so hard to believe that she would want to truly settle down, white picket fence, mini van and all? The problem is the boy who has had her heart since high school is about to embark on a major league baseball career and travel all over, again…. She broke up with him so he wouldn't be tied down but when he makes another play can she risk her heart again?
Wes Ramsey didn't understand women. His one goal had always been baseball, like his father and his brothers. The one time he gave his actual heart it came away broken, right before he was about to make it. Now the same girl who shattered his heart is on a mission to find Mister Right. Can he make her see she's already had him and he is willing to be there again?
Too be young, in love and blind to what is in front of you. Can these two remove the blinders before it's too late?
Ms. Rock has a very smooth style with her Tule books where the words just seem to flow seamlessly into an ocean with a very similar style of a Hallmark movie (just not as cheesy). ☺ This novel is no exception. This is part of a series where small town meets major league baseball. This is a perfect Spring/Summer read that flows quickly, is just the right amount of sweet, but little heat. Overall a great read.
Book Info:

Publication: Published May 7th 2020 | Tule Publishing | Texas Playmakers #3
She's playing the field…
Emma Garcia is ready to put down roots in Last Stand, Texas, and she's ready for love – but only with someone settled and responsible. Professional wanderers like her ex-boyfriend, ballplayer Wes Ramsey, are exactly what she doesn't need. Except when Wes walks into the local dance hall during her date with someone else, Emma can't think about anyone but her sexy ex.
He's ready to score…
Wes is ready for the ride of his life now that his baseball career is taking off. He just needs to tie up loose ends at his family's farm before spring training, a task he can't focus on when the hometown rumor mill informs him that Emma is speed dating her way through the Last Stand locals in a bid to settle down. Wes knows he should leave well enough alone. But one hot look from his ex has him rethinking their split – and determined to show her what she's missing!