In Hard Time by Cara McKenna, even years after leaving an abusive ex, Annie has never wanted to love again. She is a librarian, a nice quiet, unassuming career. This career takes her inside Cousins Correctional Facility as the outreach librarian. In cousins, she meets Eric.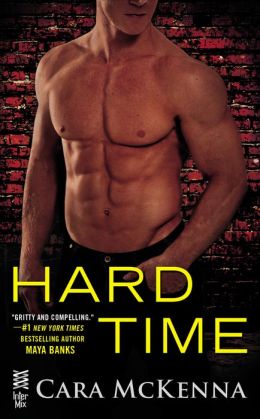 Eric is an inmate who is in jail for assault and makes no apologies for it. He should be everything Annie does not want, and yet he is like a magnet. She is drawn to him, her heart races, and she unexpectedly feels things for him. Eric has no regrets, he makes no apologies for who he is or what he's done to land in jail. That part of him is the bad boy Annie knows she should stay away from. But he excites her, and she also sees a goodness in Eric. From the moment Eric set eyes on Annie he wanted to get to know her, he wanted more. Soon Annie and Eric start a secret love affair in the form of letters they slip to one another. Through these letters they become much closer…and the letters are increasingly provocative. Sometimes Annie thinks she should stop, but she can't.
Unexpectedly, reality comes crashing down on them when Eric is paroled. Annie panics, thinking of all the implications when fantasy turns to real life, and cuts ties with Eric. She doesn't stop thinking of him though, and an unexpected encounter with him makes her realize she just might not be ready to let him go. Can they deal with life outside of the prison walls together and all it entails? Or will it prove too much for a new relationship to withstand despite how hot their chemistry is and how much they both care?
Cara McKenna gives us a couple of strong, intriguing characters in Hard Time. Eric and Annie come from very different backgrounds, but that doesn't stop the attraction or the sudden feeling they both experience of feeling alive again when they least expected it. They enjoy being with each other and seem to be honest and accepting, if only they can be open to what their relationship is and how it will look for them. I liked that they didn't play any games, and I felt like I really got to know both of the characters. Using the letter writing to do this was a unique and exciting way for Cara to do this. It also allowed us to see how much Eric and Annie grow and even see themselves. In spite of Eric's prison time, the relationship is realistic with some real life issues that Cara integrates well into Hard Time.
There are not a lot of strong secondary characters, but the ones that do appear such as Eric's sister, really spice up the plot.
I did feel the conclusion did not give me as much closure as I'd have liked, I was left without some of the issues I'd have liked to have seen played out resolved for good or bad, so it was a little anti-climatic for me…making me wonder if there will be a follow up book with one of the secondary characters?
Overall Hard Time is a well paced romance with a great story line that I'd recommend to romance readers who enjoy some forbidden love!
Book Info:

Published April 15th 2014 by InterMix
In this all-new novel from the author of Unbound, a woman with a rocky past finds romance in the last place she'd ever expect…
Annie Goodhouse doesn't need to be warned about bad boys; good sense and an abusive ex have given her plenty of reasons to play it safe. But when she steps into her new role as outreach librarian for Cousins Correctional Facility, no amount of good sense can keep her mind—or eyes—off inmate Eric Collier.
Eric doesn't claim to be innocent of the crime that landed him in prison. In fact, he'd do it again if that's what it took to keep his family safe. Loyalty and force are what he knows. But meeting Annie makes him want to know more.
When Eric begins courting Annie through letters, they embark on a reckless, secret romance—a forbidden fantasy that neither imagines could ever be real…until early parole for Eric changes everything, and forces them both to face a past they can't forget, and a desire they can't deny.