Winning over Skylar by Julianna Morris: It's taken me a few days to write this review after completing "Winning over Skylar." It was simply such a good book, a simple tale well told, that it took me a while to do it justice in writing. The main character is the Skylar of the title, a young woman who just gave birth to her illegitimate child in the prologue of the book. Her own family is "messed-up" but she has been taken in by the loving and generous Gibson family (Mr. and Mrs. Gibson, and their son Jimmy), and she names her newly born daughter Karin after Mrs. Gibson.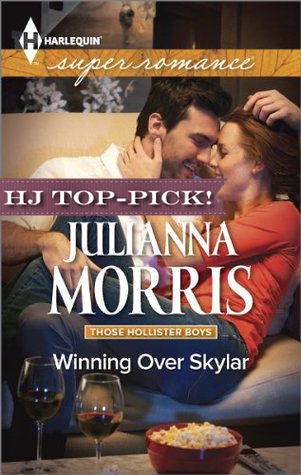 Chapter One starts nearly fourteen years later, after Jimmy Gibson has been killed in a motor vehicle accident. Skylar and Jimmy had married, and he had raised her daughter Karin as his own. Their marriage had been happy and successful, and it had been a huge shock to Skylar and Karin when he had died. Now they are carrying on, Karin in high school and Skylar owning and running the Gibson Nibble Nook, a hamburger stand near Cooper Industries. Karin has a new friend, Melanie Hollister, a slightly older girl who has come to town to live with her much older half-brother since her own parents were divorced and not interested in raising her. Melanie's brother is the very handsome and very corporate minded Aaron Hollister, who went to high school with Skylar. Aaron is not well liked in the town of Cooperton. He has just returned after many years away, and is taking over Cooper Industries from his retiring grandfather. He wants to modernize, expand and revitalize the plant, not thinking about how it affects his employees or the town at large. Because of a shared past history, Skylar feels immune to his good looks and charm:
He'd been attractive in high school with his dark brown hair and eyes. Now he was downright gorgeous. Luckily she was immune—she knew his handsome exterior concealed a jackass of major proportions.
Aaron, for his part, recalls Skylar to be a "bad girl" with a bad reputation. Her parents were abusive drunkards, and she did her fair share of acting out in high school. Because of this past, he initially doesn't want his sister to be hanging out with Karin and Skylar, imagining them to be bad influences. In fact, Aaron underestimates Skylar at every turn: he's surprised that she can run a successful business; taken aback when she has good ideas; alarmed when he finds out that she is on the city council. Gradually though, he starts realizing that Skylar as a grown woman is not the same troubled teenage that he knew, once made love to in the back of his Mustang, and then dumped. And therein lies the trouble: Aaron is unaware that his is actually Karin's father. How he learns about it, and how he and Skylar deal with this makes up the rest of the novel, and the results are endearing and heart-warming.
Aaron, like Skylar, also had a difficult childhood. His father, who he shares with Melanie, is a playboy, and on his 6th wife when Melanie was born. He was raised by his mother's parents, who were distant and strict. Lonely and unhappy, Aaron learned to become highly distrustful of everyone: his employees, women, family. Trust is a theme throughout this book; Aaron needs to learn to trust people in general, and especially Skylar, and Skylar needs to learn how to trust him with her secrets. Skylar needs to learn to forgive Aaron for his actions in the past, and forgiveness is also a theme. Family is yet a third theme, and concepts such as "what is family?" and "what makes up a family?" are explored.
The main characters of Skylar and Aaron are such well-rounded and real people that you feel like you could meet them on the street where you live, that they could be your neighbor or local restaurant owner. The teen girls are portrayed accurately enough and in such a way that they could be anyone's teenage daughter and friends, and for the most part they are highly believable in their behaviors. I enjoyed the secondary characters also, most notably the Gibsons and Aaron's administrative assistant Penny, who adds a bit of old-school levity to the novel.
I highly recommend reading this book. The character development is smooth and believable, the setting is impeccable, and the ending is satisfying There is even an epilogue for those romance readers who enjoy them! Read this book—you will not regret it.
Book Info:

Published April 1st 2014 by Harlequin Superromance
Skylar Gibson isn't the rebellious teen she used to be. Aaron Hollister, on the other hand, is still the entitled rich kid who betrayed her. And if he thinks she'll let his business plans threaten her town, well, he'd better think again. But her first priority is protecting her secret—their fourteen-year-old daughter.
When the truth comes out, Skylar is shocked by Aaron's reaction. Could there be more to this golden boy than she'd thought? It'll take more than a trip down memory lane to prove he's changed….