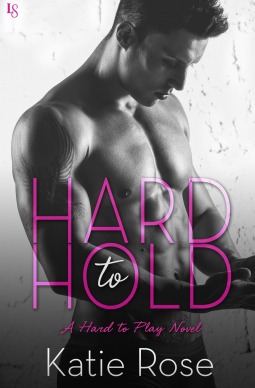 In Hard to Hold (Hard to Play #1) by Katie Rose, Logan Hart doesn't know the first thing about raising a child, so how is he supposed to look after the little girl that's been handed to him by his ex. Hiring a nanny seems to be the best idea, but he never imagined he'd end up with a hard task master of a woman determined to whip him into shape and make him the best dad he can be.
Before you show me to my room and I unpack, we need to get something straight. I am a nanny. I am not the baby's mother or father. You are."
Unlikely to be able to have any children of her own, Isabella Bennett works hard as a nanny to help the rich care for their children while making sure that the people she works for know she's not a substitute parent they can outsource care of their child to. She expects parents to be involved, and isn't about to give Logan any special treatment, even if she is attracted to the sexy soccer player. Now, if only she can remember that she's there for the baby, and not to fall in love.
Ever since reading my first book by Ms. Rose, which was coincidentally the story that features Logan's sister (The Heat of the Moment), I have eagerly anticipated any future releases by this author. And right from the beginning, this book was everything I'd hoped for and more. Really, I found my eyes glued to every word, as it introduced me to the hero really well. Of how he's had his ups and downs in life and now faces his toughest challenge yet. Can he become a good father to the baby he's been handed? Is the baby even his?
The dialogue was intense due to the main characters back stories, and everything that happens throughout this story. Will everyone learning the truth that the hero has a kid jeopardize his career? Will Logan finally come to terms with the possibility that the baby might be his? Will Isabella ever tell Logan the reason why she's a nanny? Moreover, there were some light-hearted moments between the hero and heroine that provided hope that Isabella would finally get her happy ever after. When she never thought she would because of the reason her last relationship ended; a reason she believed every man would be disappointed by and would make a man not want her.
Isabella nodded and she lifted her eyes to his. "You shouldn't have to suffer because of me. Of this. It was a total lack of judgment on my part. I've been thinking about it, and I get it if you would rather work with someone else. I'll call Patty tomorrow, ask her to reassign someone—" That was a far as she got.
"You aren't calling anybody," he growled, pulling her into his arms. "You're the best damned thing that ever happened to Cinnamon. And me. I'm lucky to have you on my team, and I'd be a fool not to know it. And I'm no f****** fool."
I really liked both the main characters, as well as the secondary ones. Logan's mom is a bit full on once she learns about the baby and it was quite amusing how involved she wanted to be since the child was her first grandchild. Then there's Logan's sister, Jessica. They are quite close and would do anything for each other, and he's lucky to have her, especially when she comes to his rescue when he first learns that he has a daughter.
As for Isabella, she's kind, caring and would make a very good drill sergeant with her attitude as a nanny. No way will she allow Logan not to be involved in his daughter's life, because she's a nanny and not the kid's parent. She believes all parents should be capable of caring for their child, and be able to show that child just how loved they are. She's also strong and brave, and although Logan and Isabella have their ups and downs, they make a very good couple. Certainly, the sexual tension between the hero and heroine increases every time they converse until eventually their strong chemistry spills over onto the pages in hot sex scenes. Isabella has her reservations about getting involved with Logan because of the reason her previous relationship ended, but in the end he's hard to resist.
While Logan, he's confident, talented, and the growing relationship between he and his daughter was wonderful. At first, he has no idea what to do, but I liked how Isabella helped him every step of the way until he got the hang of being a parent. Isabella is demanding, bossy, and yet, he knows she's right about him needing to become a good parent for his baby's sake. What would happen to the child if it turned out he wasn't the girl's biological father? What if Logan wanted to keep the baby, even if the little girl wasn't his biologically? At least, he'd be able to make certain she was well cared for.
Overall, Ms. Rose has penned an incredible novel to start off this new series, and I'm really looking forward to more stories in this series, because I'm hoping that Logan's teammates are heroes in those future books. The way this story ended was perfect, although it was a tad emotional, as Isabella explained everything about why she may not ever be able to get pregnant and then Logan proves how much he loves her. I would recommend Hard to Hold by Katie Rose, if you enjoy the secret baby trope, or drill sergeant like heroines that will do anything to teach parents how to care for their children.
Book Info:

 September 13th, 2016 | Loveswept | Hard to Play #1
New Jersey Hurricanes striker Logan Hart lives for the grind of training, the adrenaline of competition, and all the perks of the road—until his ex hands him a baby and tells Logan to raise her on his own. He's eager to pass this bundle of joy into more capable hands and get back to his hard-playing, hard-partying ways. But when a beautiful, blond drill sergeant of a nanny turns Logan's life upside down, he sets a new goal: winning her heart.
Isabella Bennett takes pride in teaching the rich and famous how to become loving families. Her no-nonsense style is just what Logan and his crying, copper-haired cutie need. So why can't she get the image of Logan's tanned, muscular body out of her head? Isabella's here to whip a new father into shape, not fall for a sexy ladies' man. But their chemistry is too tantalizing to ignore, much like the temptation to trust someone with her deepest secrets—and embrace a loving family all her own.