Hate Thy Neighbor by S.M. Soto: Fresh off a break up with her long time boyfriend, Olivia realizes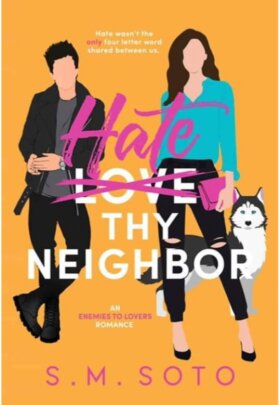 that she is tired of living her life with an expiration date. Which prompts her to moving away from home and starting her life the way she wants to live it, free and alive. With her perfect job at the local veterinary clinic lined up and her very own fixer up house, Olivia is all set. All she has to do is get to know her new neighbours, armed with freshly baked cakes Olivia makes her rounds, with things looking promising, she makes her way to the house of the dark mysterious bike rider. Things however don't go any better than their first meeting, only difference this time is that Olivia gets an unobstructed view of this moody bikers chiselled body. With things between the two not getting much better the fiery neighbors embark in a prank war.
"The guy is handsome. Painfully handsome. I didn't think it was possible for his face to get any better than his body, but, obviously, I was wrong. His face is so much better than I could've expected."
Roman needs to focus on getting his life back on track and getting his younger brother out of the system, he definitely does not need to be distracted by the cute cake baking neighbour. But with her trying to make friends at every turn Roman does what he thinks best to get rid of her, act like a world class jerk. It sure does not help that his dog seems to be falling in love with her. With the two dancing on the very fine line between taunting and flirting the heat comes to a steamy head when neither is able to fight their attraction any longer. However with Olivia holding back a vital detail about her health how will Roman react when he finds out about this life altering titbit.
Hate Thy Neighbor was a steamy hilarious enemies to lovers novel that had me hooked from the very beginning. I loved this multi-layered novel and that it touched on some very real issues that woman face in the work place. But really Travis was such a huge jerk! He really deserved that kicking that Roman gave him. I loved that Soto added a layer of mystery in the novel and showed that not all is doom and gloom.
"His speech is flavored with whiskey and tobacco. I'm not even entirely sure if that's a thing, but I feel like it is. It's so deep and masculine— and all too hot—"
Though I will say the star of this novel has to be Roman. He was the perfect dark alpha bad boy trying to fight his way to a better life. I loved that even though he tried so hard to push Olivia away he could not help but want to help her and be her silent protector. Adding to his ever growing attributes is his desire to want to give his brother a better life than the one he had growing up. As for Olivia I loved that she did not let her health condition hold her back and she wanted to live the best, fullest life that she could live. I am a huge fan of secondary characters and all the antics that they contribute and Soto really has added a hilarious one in the form of Olivia's mother and all her awkward sex talk.
"I feel at peace with myself. I feel happier than I've ever felt. I'm not even afraid to admit that I might be falling for my neighbor."
The only thing that I did not like was the extended optional epilogue, I was completely satisfied with the first epilogue that gave is a truly well tired up happily ever after. This is purely my personal opinion, I prefer to read a novel that ends with a happy ending, however if you want to brave a few tears go for the extended epilogue.
Overall Hate Thy Neighbor was a brilliant enemies to lovers novel that highlights that there is sunshine in even the darkest places, it's all about the way we choose to see the situation.
Book Info:

Publication: July 27th 2020 | Pub: S.M. Soto |
Fresh out of a failed engagement, Olivia Hales is in dire need of a fresh start. Tired of being the charming and accommodating girl that always gets stomped on, she's determined to change her outlook on life.
When she finds her dream job in a small town in California, she thinks she's finally found her place in life. That is, until she meets her new neighbor.
Roman Banks.
Moody. Foul-mouthed. Jerk.
And the hottest man on the planet.
At a sprawling six foot five, he was coldly distant and physically intimidating. Not only was her new neighbor a God that was good with his hands, he was also a grade-A jerk. Trapped on the same street, sharing the same space together, they've become entrenched in an addictive, ridiculous, never-ending game of insults and pranks that result in the destruction of two perfectly good homes.
The tension between them is as thick as the walls of their houses are thin. Roman's touch burned like fire even when his words were ice, and both of them will stop at nothing to make the others life hell.
In the midst of the pranks and the hate they harbor for each other, Olivia slowly pulls back the layers of the man next door and finds herself consumed with wanting to fix him and his past. When both enemies start to catch feelings for each other, Olivia finds herself hiding her own secrets, not wanting to lose another man in her life.
Lines are drawn. Strict rules put into place. But that doesn't stop Olivia from wanting to save the quiet, broody man next door.
They say you're supposed to love thy neighbor, but that was the furthest emotion she felt when thinking about Roman. Hate was all there was to their relationship. At the very least, that's what she tried to tell herself.