Have Me by Anne Marsh: Liam Masterson is the definition of indulgent and lavish. After all he lives for a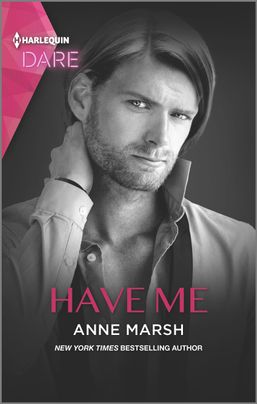 life of self loathing and debauchery, but waking up next to his best friends younger sister is one step to far even for Liam. Now a steamy night between the sheets is one thing but matching wedding bands is a whole other.
Being the cunning businessman that he is Liam sees an opportunity to make a huge mistake work in his favour. Which is how Liam and Hana find themselves in a marriage of convenience, she helps clean up his bad boy image while he will help lead her down the road of temptation. However neither expected for what was supposed to be just two people helping each other out to turn into something very real. But will Liam finally be able to learn how to love and hold on to someone or will his darkness dim Hana's sunny personality?
I am a huge fan of the marriage of convenience and brothers best friends trope and to add to this delectable combo a damaged hero and I was sold! Have Me was a brilliant read, in fact I will go as far as to say it was my favorite Dare Presents book so far!
The chemistry between Liam and Hana was so on point, you could instantly feel the draw between the two of them. Which made watching them fall in love all the more enjoyable. I absolutely loved Hana, she was fun loving and just a ray of sunshine. As for Liam who doesn't love a billionaire bad boy? I will say this, there were a lot of steamy scenes in this book!
Overall Have Me is definitely a good one, I would highly recommend this saucy and scandalous romance to any Dare fan.
Book Info:

Publication: February 1st 2021 | Harlequin Dare |
Bad boy billionaire Liam Masterson accidentally marries his best friend's little sister in the latest decadent DARE novel by New York Times bestselling author Anne Marsh!
My indulgent sex parties are renowned among San Francisco's elite. Doing naughty deeds while blackout drunk fuels the fire of my self-loathing. Waking up naked next to my best friend's little sister, however, is a step too far…even for me. And when I see our matching wedding rings, I know I've outdone myself.
Hana Valentine always had a crush on me, but I've kept it in my pants…until last night. A temporary marriage will improve my image with investors, so I do what billionaire bastards do best—throw money at the problem. Hana proposes a trade instead. She'll give me good-guy lessons if I show her how to be deliciously bad…
Now that I've seen her lush curves, felt her silky skin, tasted her honey-sweet mouth, I can't help but agree. Soon sunny Hana is shining light and warmth on my hidden darkness. I find myself letting her in, closer than I've ever let anyone. But will my destructive tendencies ruin the one thing that could save me? Or could being with Hana teach me how to have and to hold?