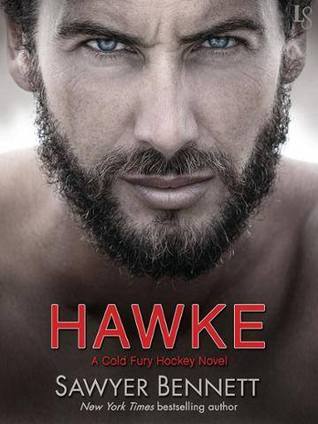 In Hawke by Sawyer Bennett, Hawke Therrien is starting his first season with the Cold Fury hockey team. The last person he expects to see as the new assistant trainer is Vale Campbell, the woman he had spent four years with before she cut him out of her life.
Hawke never forgot Vale, but he never forgave her, either. Even though seven years had passed, he was still angry and bitter about how their relationship ended. Hawke is conflicted; he wants to be with Vale, but he doesn't trust her not to hurt him again. As a result, he keeps her at arm's length.
I'll admit I wasn't crazy about Vale at first, but after reading what she was dealing with in regards to her father's illness and what happened to her to cause her to originally break up with Hawke, I was more sympathetic towards her. Still, I thought it was wrong to keep the truth from Hawke all those years. I also thought he should have brought up the fact she tried to communicate with him after the breakup sooner than it happened. Instead she held on to some residual anger that he didn't respond. If she had just confronted him about it, she would have realized why he didn't have a chance to respond and a lot of the bitterness in regards to that could have been avoided. Despite my issues with her, I did enjoy the two of them together.
While this is the fifth book in the series, it is a stand alone, as are the other books in the series.
If you enjoy books about hockey players and second chance romances, you should definitely give this book a read. Sawyer Bennett's Cold Fury series is one of my favorite hockey series, and this was another great addition to it.
Book Info:

 March 15, 2016 | Loveswept | Cold Fury Hockey #5
Off the ice, elite defenseman Hawke Therrien enjoys his fair share of booze and good times. And why shouldn't he? He's worked his way up from the minor leagues and made himself a star. The only thing Hawke misses from that life is the pierced, tattooed free spirit who broke his heart without so much as an explanation. She's almost unrecognizable when she walks back into his life seven years later—except for the look in her eyes that feels like a punch to the gut.
Vale Campbell isn't the same girl she was at twenty. As crazy as she was about Hawke, her reckless behavior and out-of-control drinking were starting to scare her. She had to clean up her act, and that would never happen with Hawke around. Cutting him loose was the hardest thing Vale ever had to do—until now. Because she's still crazy about Hawke. And if he could ever learn to forgive her, they just might have a future together.