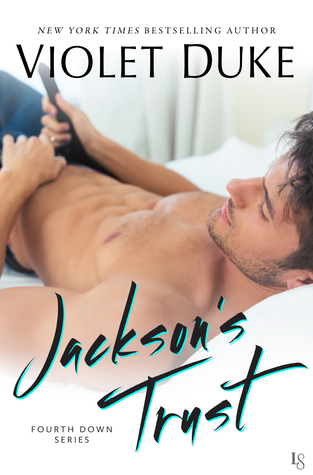 In Jackson's Trust (Fourth Down #1) by Violet Duke, a long lasting relationship has never been in Jackson Gray's future, especially when he has a secret that would have every woman after him, if it went public. Being a sports analyst is a worthy job, and mentoring the new sideline reporter joining the team would be no hardship, considering she could give him a run for his money when it comes to talking about sports, especially one sport in particular — Gridiron.
"Not if you expect me to answer, Weatherman. Unless you plan on calling everyone here with a penis in his pocket 'sugar lips' and 'honey buns' as well, you better believe I'll get HR on your ass," came her hissed, riled up reply.
Leila Hart has never had a man rile her as easily as Jackson Gray does, but there's no way she can take their growing friendship any further than some heavy flirting. Not if she doesn't want to risk everything she's worked so hard to achieve, especially her shot at being an NFL sportscaster. Except the more time she spends with Jackson, the harder the man is to resist. However, Leila is hiding secrets of her own and if anyone – especially Jackson – were to learn the truth it could destroy any chance they have at a future.
What a well-written, emotional and captivating read Ms. Duke has penned in this first book of a new series, where the fast-paced plot is set by this couple's growing relationship, and the moment that Jackson's secret is revealed. I really liked how it started with Jackson scrutinizing Leila, and then when they meet. Leila is feisty because Jackson pushes her buttons with the nickname he gives her.
As for the dialogue, there were plenty of light-hearted moments between Jackson and Leila, or the main characters and Jackson's two good friends – Bennett and Donovan; as they did everything in their power to mess with the hero. The two friends were a real hoot, and how they accepted Leila so easily was endearing. However, the dialogue is also intense due to both main characters secrets, which put Leila's life in danger. Someone wants to make sure that Jackson fails at his new job, and is willing to use Leila to get the upper hand.
"Sunshine, you make me want things I shouldn't hope for, shouldn't even imagine I can keep."
Eyes wide, voice barely louder than a secret, she asked, "Like what?"
He went with the answer at the very top of his list. "You."
I really liked both the main characters. Leila is a tomboy and would rather be amongst those that love football instead of being the woman her parents want her to be, by expecting her to marry someone that she no longer has any interest in. She's also smart, argumentative, bold and tenacious. But what I liked most about her is how determined she is to achieve her dream, and prove that she can make it in a man's world. Her vast array of knowledge proves she can do it, and is proven further by the men of the sport she loves the most being impressed by her.
While Jackson, he's confident, loyal, and although he doesn't do relationships, he believes he can trust Leila enough that she won't betray him. Because of Jackson's family, it makes him a target for people to try to take advantage. Yet, what I liked most about Jackson was how supportive he was of Leila and her dreams. He was encouraging and would do anything to help her, even when one of her biggest secrets was revealed that could have ruined her career.
From the moment Jackson and Leila met, the chemistry between was intense, and kept building every time they bantered. The pressures the heroine faces from her family make her realize that there will never be anyone that doesn't want her for what her family connections can offer them. Well, anyone except Jackson because their family situations are similar. Eventually though, their intense chemistry heats up the pages in nicely-detailed sex scenes that were well worth the wait.
Overall, Ms. Duke has penned a wonderful novel in this book where I can't wait to discover more about the secondary characters in future books, especially Jackson's friends — Bennett and Donovan. As for the ending, I really enjoyed it, although Leila suffered badly before Jackson realized how much he loved her. However, in saying that, he did make it up to her. I would recommend Jackson's trust, if you enjoy sports romance, or sexy heroes that don't do relationships but end up finding the one woman they can't live without.
Book Info:

 March 8th, 2016 | Loveswept | Fourth Down #1
New York Times bestselling author Violet Duke kicks off her fun and sexy new Fourth Down series with a heartwarming friends-to-lovers romance between a no-strings-attached sports analyst and the hottest damn tomboy he's ever met.
It's no secret that sports analyst Jackson Gray doesn't do relationships. What is a secret, however, is the reason why. Jackson's life is . . . complicated. And it doesn't help that his current hands-off "friendship" is with the cute-as-hell new sideline reporter he's assigned to train. Turns out, not only is the woman damn sweet, she also knows as much about football as he does. Like it or not though, Jackson has to remind himself that sex is the only thing he has to offer . . . until now.
Leila Hart's fast-growing friendship with Jackson is something she'd never risk, no matter how unbelievably seductive the reward. Becoming an NFL sportscaster has always been the goal, and thanks to Jackson's fierce support and mentoring, it all finally seems within reach. Problem is, a girl can only take so much of that sexy-as-sin voice whispering dirty, filthy football stats in her ear before she loses all self-control. A workplace romance with Jackson is a disaster waiting to happen, especially for someone with big dreams . . . and secrets of her own.