Heart Breaker by Erin McCarthy: Several months ago the hottest country duet ended their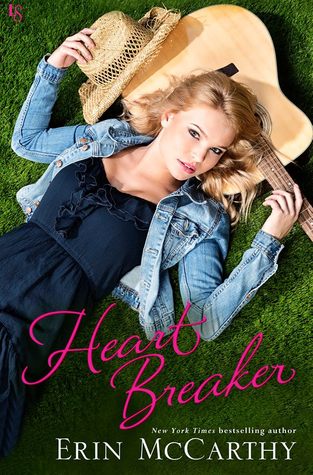 romantic relationship and it looks like their musical one is going down the drain as well. Not having spoken in months, they need to work on a new album so their label ships them off for some alone time to write.
Communications the big problem, they've always had great sexual chemistry. Neither Chance nor Jolene are over one another, yet the bitterness remains. But now, they might just be willing to give it another chance.
If only they can agree on spotlight and career paths. Jolene wants it all after a childhood of nothing. But Chance, a legacy child from a family of brilliant songwriters, wants a much quieter life.
"I'll do this. I'll give you four weeks to see what we can come up with. But I want one thing in return."
"I'm waiting."
"We do this like we used to. We write songs together in bed. Naked."
Chance and Jolene felt real to me. Their problems felt real. And their attraction felt out of this world. I loved them both separately and together. I just wish their problems were more ironed out in the story.
I felt there was some progress, but I don't trust that they can continue their relationship happily. Too much time was devoted to their easier, sexual attraction, rather than developing their conversation and real problems.
That said, I loved the world I was in. I loved Jolene's loud and proud personality along with Chance's quieter, flirtatious one. They are an adorable case of opposites attract. A little jealousy gets thrown in when the label brings another female, and attractive, songwriter to the mix. But I really appreciated that it never evolved into a love triangle.
For any music romance fan, I highly recommend Heart Breaker. It was a whole lot of fun, and I can't wait to see what else McCarthy brings with this new series.
Book Info:

Publication: May 17, 2016 | Loveswept | Nashville Nights #1
They're perfectly in tune—but only when it comes to their music. This sizzling romance from New York Times bestselling author Erin McCarthy follows Nashville's hottest country music duo as they fight for love in a city where dreams often cost a broken heart.
Self-made singer/songwriter Jolene Hart loves everything about being on top in Nashville. Well, everything except her very public breakup with Chance Rivers, her sexy masculine other half. Once the hottest duo on the scene, they turned Music City on its ear. Now their careers are as cold as their relationship. Which is why their manager has practically locked them in a remote cabin with nothing but a guitar, a bed, and time to do what they do best: make some beautiful music together.
As Nashville royalty, Chance has big boots to fill—and the pressure that comes with 'em. He fell hard for Jolene, but he couldn't handle the spotlight, the crowds, and the fights that made headlines and killed any notion that love and success could go hand-in-hand. Still, Chance is more than willing to rekindle the one thing that worked: the wild passion behind their hit songs. Soon they're making up for lost time, in the steamiest ways possible. But Chance finds himself wishing for the impossible: that their intimate hideaway could last forever.