In Heart of a Hostage (The Princes of Kharova #3) by Christina Hollis,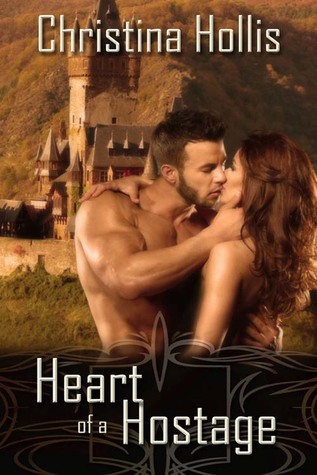 Princess Maia wants nothing more than her independence. She's sick and tired of having to meet her family's expectations, especially the one where they expect her to marry a man chosen for her. Falling into the hands of rebel leader, Mihail, might just be a blessing in disguise, if he can manage to get over the fact that she may be the worst house guest ever.
"Move."
"No."
Mihail scrubbed his hand up over his brow. "There must be easier ways of earning a living," he muttered. "Nobody would go into the hostage business for pleasure. Especially if they were all like you."
This third book of The Princes of Kharova series Ms. Hollis has penned, comprises the opposites attract and enemies to lovers tropes, a heroine seeking her independence and a hero looking to use her as leverage against her family. Right from the beginning, Maia's need for independence leading her right into the hands of the enemy sets the fast-pace of the story, and together with a lot of clever banter between the main characters as well as the discoveries they each make about the other kept me entertained from start to finish.
Both main characters were riveting, and the heroine took me completely by surprise. Half the time, she doesn't act like a princess. She's smart and brave in the way she challenges Mihail, and doesn't respond to his demands like he expects her to. Indeed, some of the scenes where she does challenge his authority were quite amusing; as the hero tends to respond with sarcasm. She also isn't afraid to get her hands dirty if she doesn't like something around the castle where Mihail is forcing her to stay. Then there's her inquisitiveness, which is what I liked most about her. As it leads to her learning the truth about the hero. That he's not the ruthless man she and everyone thinks him to be.
"What if I refuse?"
He muttered something under his breath, then said, ""Don't you ever stop arguing?"
"Is there an answer I can give that will stop you rolling your eyes at every word I say?"
"You could have kept quiet. Not everything I say needs a reply."
While Mihail, he has such a commanding influence; the sort that from the moment he was introduced, made me drawn in by his point of view. And as the story progressed, I was more and more intrigued by him. Why was he rebelling against Maia's family? How was he going to use Maia to get what he wanted? Also, I liked that he treated Maia just like he would everyone else. That he didn't yield to her equivalent, of the 'do you know who I am?' routine, for fear that her family would retaliate for holding her hostage.
As for the secondary characters, I felt sorry for Maia when it came to her brothers. She always does the right thing, even if they bully her into it. And yet, when she needed them most – it was as if – they couldn't care less about her; that their standing as the royal family was more important than their sister. So, I was cheering when she confronted her brothers, and finally stood up for herself because she was sick and tired, of the way her family treated her.
Overall, Ms. Hollis has penned a good book where Maia turns Mihail's fantasies into reality. For the first time, Maia is determined to go after what she wants and doesn't care about the consequences, because Mihail has come to mean a lot to her, and vice-versa. His concern for her reputation, and that he doesn't want her living as an outcast is touching. So, those two reasons alone makes their life together worth fighting for, as Maia finally has someone that cares about her more than a royal title.
This book ended well with Mihail saving Maia and their discussion about their future made me smile, as she isn't afraid to tease him about how different they are. I would recommend Heart of a Hostage by Christina Hollis, if you enjoy the enemies to friends trope, the opposites attract trope, or heroines wanting their independence.
Book Info:

Publication: December 4th, 2015 | The Wild Rose Press | The Princes of Kharova #3
Mihail strides out of Maia's past to take her hostage. Who will end up in more danger-her, or him?
Princess Maia has it all—including a horrible fiancé chosen for her by the king, and a family bullying her into doing the right thing—but all she wants is her independence. When she falls into the hands of rebel leader, Mihail, she tastes real freedom for the first time. Mihail is a lone wolf, Public Enemy Number One, and heir to a fierce tradition. A dangerous reputation, a castle full of guilty secrets and now rescuing Maia are all woven into his master plan. He can't lose.
Until his unexpected hostage turns out to be the house guest from hell…