In Heart Surgeon to Single Dad by Janice Lynn, Matthew Coleman never imagined he'd lose his best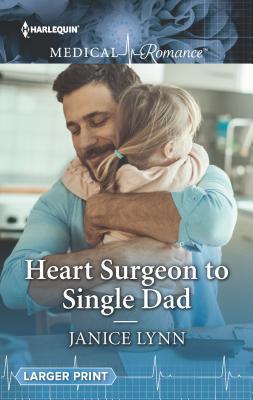 friends to tragedy, but when it happens and he takes guardianship of his god-daughter, he knows his life will never be the same. Moving to be closer to his family, Matt takes a job that should have gone to the woman he once spent an incredible few nights with, Dr. Natalie Sterling. Will Natalie and Matthew be able to work together without too many problems and achieve their happy ever after or will one of them walk away so they don't end up breaking the other's heart?
"I thought you could do better."
He burst out laughing. "You think?"
"Life goals, Matthew," she said, and tsked, rolling to face him. "Life goals."
"Guess I better get started." He traced his finger over the curve of her bare hip.
This book didn't fully draw me in right from the start like I believe a book should, but I'm glad I stuck with it. Since this book really takes off when Matthew comes back into the heroine's life after they went their separate ways, which means nothing good for Natalie. Really, her hopes and dreams are dashed and working with Matthew isn't going to be easy. Will Natalie be able to work with Matthew without feeling any animosity towards him?
As for the dialogue, it was intense due to the main characters back stories and the medical emergencies these two have to handle. Will these two take a chance on each other after everything that's happened to them in their pasts when it comes to relationships? Moreover, I really liked the heroine and I couldn't help but sympathize with her situation. She's dedicated to her job and to be disappointed the way she is by Matthew's return in her life because he got what she wanted most in her career just didn't seem fair. Yet, in saying that, I liked how she handled everything with resilience because helping people means everything to her. While the hero, his life changed in a big way and I liked how he's done everything he can for his god-daughter, especially since she's already lost so much already. Will he be able to make things work? I also liked the hero's determination to win the heroine over because they need to be able to work together without anything getting in the way of saving people. Is the hero up to the challenge he faces with the heroine, especially since he ended up getting what she wanted when it came to her career?
"Is this really happening?"
"I think so." She smiled. "I may just be the happiest woman who ever lived."
He grinned. "That happy, eh?"
"Happier."
"Good, because I want to make you happy."
Overall, Ms. Lynn has delivered a really good read in this book where the chemistry between this couple was strong from the moment they meet; the romance was delightful and had me liking that the heroine took a chance on the hero, especially after what happened with her last relationship; and the ending had me loving that the heroine didn't throw everything she was building with Matthew away and realized that love was worth fighting for. I would recommend Heart Surgeon to Single Dad by Janice Lynn, if you enjoy the medical romances, workplace romances, the enemy to lovers trope or books by authors Amalie Berlin, Tina Beckett, Annie Claydon and Sue Mackay.

Book Info:

Publication: September 18th, 2018 | Harlequin Medical |
Is he ready to be a father…And to fall in love?
Everything's always come easily to world-renowned playboy surgeon Matthew Coleman. Until he suddenly becomes guardian to his young goddaughter. Now she must come first–so he takes a job back home closer to family. And comes face-to-face with recent fling Dr. Natalie Sterling, who thought the role was hers! Can new dad Matthew win back career-focused Natalie's trust…and her heart?