The Proposal by Jasmine Guillory: Nikole is a talented writer and she loves her freelance work. She's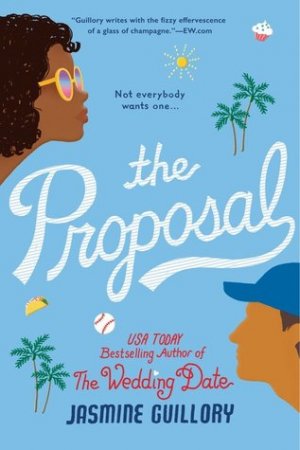 spunky, feisty, independent, and loves food. She's very much focused on her career at this point. Carlos is a dedicated doctor who loves to cook and take care of his mom, sister, and other family members. Just like Nik, he thinks he doesn't really have the time for a relationship.
Nik is horrified when her boyfriend surprises her with a JumboTron proposal at a Dodgers game. Nothing about their relationship was serious, nor was Nik in the market for a relationship that would lead to marriage. The well-timed rescue by Carlos and his sister was exactly what she needed. That timely rescue leads to a friendship neither expected, but was a welcome surprise with the ensuing social media storm and barrage of emails, calls, and memes.
"You have to promise to never tell anyone about this, though. I have a reputation to uphold."
She nodded and turned so her lips were almost touching his ear.
"Cross my heart; it's our secret. Just one question: do you think you maybe want to call triple A to get us out of here?"
They pretty quickly learn that they share a mutual love of food, especially when Carlos cooks. Both felt the attraction that first day, but they develop a friendship before adding the benefits to their relationship. Carlos was just meant to be a fling after the disaster with her ex, but he makes her laugh, he respects her, and their relationship is easy. So easy that they start spending significant time together and the once clear lines become blurred.
"I promise we can hang out and eat pancakes and drink rose and I won't propose to you on a JumboTron."
She clinked her coffee mug against his. Oh thank God. They wanted the exact same thing. This was perfect.
"That sounds pretty ideal."
The Proposal is delightful with humor, heat, and banter. Jasmine Guillory created a well-developed story of what happens after the public proposal goes wrong in the age of social media. Ms. Guillory provided an entertaining and diverse cast of characters, with Drew and Alexa from The Wedding Date as secondary characters. Fans of Penelope Ward and Jessica Lemmon will love The Proposal.

Book Info:

Publication: October 30th 2018 | Berkley Books |
The author of The Wedding Date serves up a novel about what happens when a public proposal doesn't turn into a happy ending, thanks to a woman who knows exactly how to make one on her own…
When someone asks you to spend your life with him, it shouldn't come as a surprise–or happen in front of 45,000 people.
When freelance writer Nikole Paterson goes to a Dodgers game with her actor boyfriend, his man bun, and his bros, the last thing she expects is a scoreboard proposal. Saying no isn't the hard part–they've only been dating for five months, and he can't even spell her name correctly. The hard part is having to face a stadium full of disappointed fans…
At the game with his sister, Carlos Ibarra comes to Nik's rescue and rushes her away from a camera crew. He's even there for her when the video goes viral and Nik's social media blows up–in a bad way. Nik knows that in the wilds of LA, a handsome doctor like Carlos can't be looking for anything serious, so she embarks on an epic rebound with him, filled with food, fun, and fantastic sex. But when their glorified hookups start breaking the rules, one of them has to be smart enough to put on the brakes…