In The Maverick Doctor and Miss Prim by Scarlet Wilson, we begin with Dr. Matt Sawyer covering his friend's job while he is going through some personal stuff. Sawyer wants to finish his shift at the hospital and go home already. He likes saving lives, but he is tired of the red tape and angry at the world because of it. Unfortunately when he thinks he is almost free to go home he goes to check on two boys who are suspected to have chickenpox, only after he checks them he believes it could be smallpox, an outbreak that is seriously contagious and dangerous to everyone that has been in contact with the patients.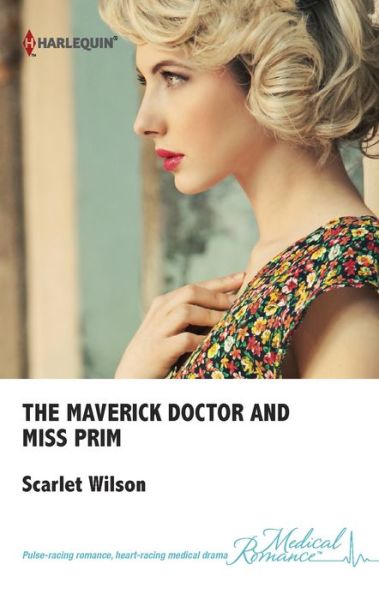 When Callie Turner answers the phone at DPA with a call about a suspected case of smallpox she thinks it may be a common prank until she finds out who is on the other end of the line. Now with a team being lead by a team member who was present on the last case of smallpox they are on their way to try to contain and find out if it really is or if it's something similar. Only on the way to Chicago hospital the team leader has a health issue and has to be taken to a hospital himself and now Callie will take charge of the case all by herself.
At first Callie doesn't know what to expect when she meets Sawyer, she hears all kind of different stories from when he was at DPA.  What she doesn't expect is the immediate chemistry and attraction she has towards him, but she knows that will hard time keeping him.
Sawyer has been living in the shadows of his anger and pain since the death of his wife six years ago, when he was at DPA with her. He has had sexual partners, but none that took and kept his attention the way that "By the Book" Callie does. She is the total opposite of him in that way, but instead of letting her flounder and suffer, for some reason he can't help coming to her rescue each and every time she needs it.
Now Callie and Sawyer will be in very close contact for the next few weeks while they confirm and then treat and eradicate the virus that came with the boys and that may have transferred to other people close by. And no matter how much they don't want to act on their feelings, being in close quarters will make things difficult for them both. But they have to first open up about what happened in their pasts in order for them to find the peace and will to move forward and into something new.
This was a great read, The Maverick Doctor and Miss Prim is the first book in this duet by Scarlet Wilson and I can tell you that if you like a good Medical Romance, you can't miss these two books. (Bk #2 About Last Night by Scarlet Wilson)
Book Info:

August 2013 by Harlequin Medical Romance
Unleashing the "real" Callie Turner!
Dr. Matt Sawyer isn't afraid to break rules. After losing his wife on a field mission, he thinks life is too short for red tape. When there's a suspected outbreak in his E.R., the last person he wants brought in is someone like Callie "By the Book" Turner!
Callie is truly in the firing line, but Matt is reluctantly intrigued by the latent beauty under her neat designer suits, and sparks are soon flying—in more ways than one—between the buttoned-up investigator and this sexy rebel doctor!