Heartbreaker by Inara Scott: Tess Papion is a twenty-six year old young woman who has had a difficult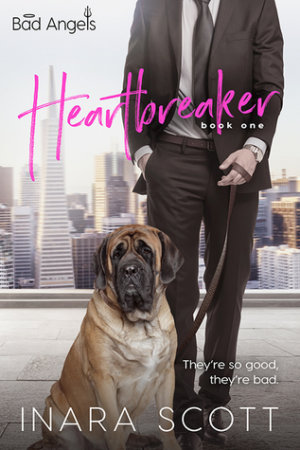 childhood but is on the right track now. She is taking college courses online in preparation for veterinary school. To keep herself out of debt while taking these classes Tess works three part-time jobs. One of these jobs is dogwalking and that's how she meets handsone, rich and oh-so-sexy Mason Coleman.
Mason is dogsitting his sister's 200 lb. injured Mastiff, Wick. Wick has allergies so he is on steroid medication which leads to drinking lots of water which leads to lots of potty runs. Mason is a workaholic who owns a very successful venture capital firm and just doesn't really have the time to stay home and make potty runs all day with Wick. So he hires Tess. It doesn't hurt that Mason is attracted to Tess when they meet.
Tess is a very independent and very busy woman. She has no time for dating and relationships are not even to be contemplated at this time. That's OK. Mason is a commitment-phobe himself. Although – there's just something different, something special about Tess. What are the chances that two people allergic to commitment will find a HEA with each other?
Heartbreaker by Inara Scott is a sweet romance that touches your heart. Tess and Mason are very likeable characters who make you root for their happiness. Mason keeps making mistakes in his pursuit of Tess but it's easy to forgive him. Tess keeps fighting with herself every time her heart tells her to go for it. But two people who are soulmates should get together. Inara Scott's story telling is heartwarming and entertaining.
Book Info:

Publication: February 25th 2019 | Entangled Publishing, LLC (Amara) |
Mistakes? She's made a few…
Dropped out of high school? Check. Ran away with loser boyfriend at age sixteen? Check. Fell for every line from every guy? Sadly, check. But now, Tess Papion has started over. Juggling multiple part-time jobs while finishing her college degree, she's not letting anything get in her way. Especially not a sexy angel investor with "one-night disaster" written all over him.
Mason Coleman just inherited a 200-pound invalid Mastiff—and an intriguing, unusual, and thoroughly infuriating dog nanny who turns his life upside down the moment she steps through his front door. No matter how she makes him feel Mason doesn't do commitment—so what happens when he falls for her? And worse, what happens when she wants nothing to do with him?