In Heartsong (Singing to the Heart #2) by Sara Walter Ellwood, Gabriel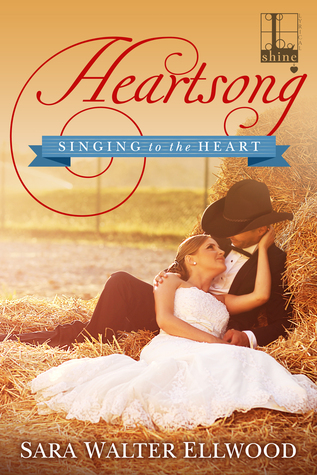 'Gabe' McKenna and Michaela Finn were once engaged. Unfortunately, things didn't work out between them with Gabe leaving two days before the ceremony to pursue his dreams in Nashville. Now though, with his ten-year-old brother needing him more than ever, Gabe re-enters Michaela's life. He needs her help if he's to gain custody of his brother, and provide him with the kind of life he deserves. Instead, of one influenced by the kid's immoral grandfather, if the old man wins custody.
"How soon for the wedding?"
"The adoption hearing is set for January sixth," he said. "We'll have to be married long enough before then for the judge to see our marriage as legitimate and not a stunt."
From the first page, I was absolutely hooked to this story, as Gabe's love for singing came through loud and clear in the narrative. Yet, the moment when Gabe and Michaela come face-to-face again, this book really comes alive with the hero doing his best to make the heroine respond to him with any emotion but anger, which he does brilliantly by teasing her with words and blatantly showing he's still interested with his actions.
"I'll be damned. Never figured you'd become one of my groupies." When a security guard grabbed her upper arm, Gabe said, "It's okay, Chuck. I don't think Miz Finn means me any harm."
I really liked both characters, and the teasing dialogue between the pair had me laughing at times. Michaela certainly knows how to push Gabe's buttons. Enough so, that their intense chemistry spills over onto the pages quite explosively in some hot, fan-your-face sex scenes.
As for their past history, it was compelling. It seems both made wrong assumptions when it came to the reason why things didn't work out between them in the past. So, this time around Gabe is prepared to do whatever it takes to show her that they deserve a second chance.
Michaela is a bit of a tomboy, and doesn't like wearing dresses. So, the fact that she'll have to wear one for their wedding is a tad amusing. She's also as stubborn as a mule. Never accepting help from anyone until it's absolutely necessary, and even then it's reluctantly. Then there's her love of barrel racing, and the moments when she's riding a horse make her seem so carefree. When in reality, she barely has time to relax because she takes care of her mother.
She took a big swig of the Lone Star and grinned. "So, the story could be that you groveled at my feet, and like some lovesick idiot, I believed you."
Gabe snorted. "Hell, that actually sounds believable. However, you'd never let anyone grovel. You'd kick him in the balls and toss him out on his ass."
While the hero, he's a good man that would do anything for his brother, despite the fact that he didn't have a good relationship with their dad. However, in saying that, he does make mistakes along the way that made me want to smack him. He's also tenacious in finding out the truth when things turn bad between him and Michaela. No way is Gabe going to allow someone to ruin his and Michaela's chance, of getting custody of his little brother.
In the end, Ms. Ellwood has penned a really good book that ended perfectly with the man trying to gain custody of Gabe's brother over him finally getting what he deserved for his evil-doings, and the surprise that his ten-year-old brother wanted as a Christmas present coming true. I would recommend Heartsong by Sara Walter Ellwood, if you enjoy second chance romances.
Book Info:

Publication: January 5th, 2016 | Lyrical Shine | Singing to the Heart #2
Gabriel McKenna is living the dream. A rising country music star he's no stranger to fame, money, or beautiful women. Despite his bad boy image, he's also got a heart of gold, and when his ten-year-old brother is orphaned, he wants to take him under his wing. But the judge on the case is less than impressed by Gabe's reputation and awards custody to the grandfather Gabe knows firsthand is abusive.
Michaela Finn is no stranger to heartache. Years ago she was engaged to Gabe McKenna, but two days before their wedding he ran off to Nashville with a female talent scout. Now Gabe is back in her life with an insane plan. Marry him, so he can get custody of his younger brother. Michaela can't bear to think of any child being hurt, but she's just not sure her heart can carry a happy tune when Gabe is playing lead…