Hell on Wheels by Karen Leabo is a deeply and hot read about two emotionally scarred people that may just be able to heal each other.
Roan Cullen is a freelance photographer filmmaker and a daredevil. Everyone believes that he has a death wish, for he will do anything for his story. He has stayed behind during a hurricane in order to film as much as possible, he has jumped barricades in order to get close to an erupting volcano and many other stunts. Now his uncle has invited him to join him on a tornado chase and he can't wait.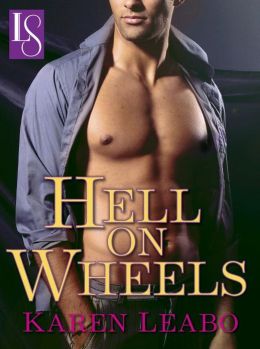 Victoria Driscoll has been chasing tornados with her mentor for a couple of years now. She tries to get time off from work when tornados are more likely to happen so she can go tornado chasing. But she doesn't do it for the adrenaline, she does it for the knowledge of meteorology and to improve the ways it can be read. All she wants is to be able to keep others safe at dangerous times.
Now Victoria is faced with a dilemma, her mentor is sick and cannot go with her, she cannot go by herself and the only person available to go is Roan his nephew. She is scared that he won't listen to her warnings and put them in danger during a tornado.
As Roan and Victoria start looking for tornados in the Chasemobile they are to travel long distances, but the attraction between them will be harder to resist as the miles pass by. And not only that Victoria will have to learn to be more self assured and not depend on others, for her insecurities may just keep them going in circles and arriving late to see when the tornados arrive.
As Roan and Victoria spend more time together they will learn that they both have things that they are afraid of that they have kept from others but for some reason cannot keep from each other. And that nature does not cater to science and can be very unpredictable, something that Victoria will have to learn before she puts their lives at risk.
If you want a fast adventure with hot scenes and sparks flying over every argument from the hero and heroine, then you will want to read Hell on Wheels by Karen Leabo.
Book Info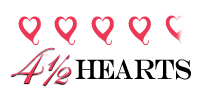 Publisher:
 Loveswept (April 8, 2013)
 
Roan Cullen isn't used to feeling out of his depth. As a photojournalist, Roan travels the planet in search of trouble and chaos—and captures it all through the lens of his camera. But the woman leading him on his first-ever tornado chase makes him crazy. She's subtle, mysterious, drop-dead gorgeous, and always in control. If the conditions are right, Roan could end up with some incredible photos—and a newly broken heart.Victoria Driscoll is used to the "boys' club" that is storm chasing, but the man she'll be sharing the Chasemobile with for two solid weeks is unlike any of her meteorological colleagues—for a start, he's far more handsome. But Roan Cullen is a brash risk taker, the exact opposite of Victoria with her precise measurements and forecasts. As tornado season ramps into high gear, the elements are all in place for a massive twister—and an electric, shocking connection between these two chasers.