Her Accidental Engagement by Michelle Major: Julia Morgan was a woman who was good at hiding, at running, at showing the world what they wanted to see. It was easier that way, no attachments, no chance at getting hurt. Once she tried to go beyond, she let one man in, it ended with her more destroyed than ever but with a purpose in her life, Charlie, her son. So for him she went home, back to a town she didn't think she would see again, people she thought she'd never have to deal with again all to build a life for her son.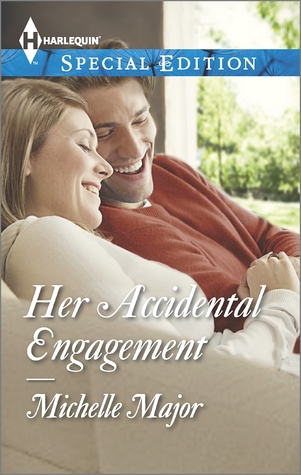 Sam Callahan had enough of his own problems and it seems his childhood ones were only the beginning. His brother had done the unspeakable and now his father was having a whole "emotional" breakthrough. What was he going to do? He was the sheriff for crying out loud. He could keep order in the town but not in his own life? Then siting in the diner everything changed.
Julia and Sam agree to a fake engagement. For Julia it helps in a custody battle for her son, for Sam it gets his emotional dad off his back. However as life often does, the plans change as life happens. Then in one life altering moment in a courtroom everything changes, will either of them realize what they are truly doing? Will they be able to make the right choice? Or will they forever be stuck in the patterns of the past?
Ms. Major is a new to me author and one I will definitely be reading more of. I went from wanting to slap Sam to wanting to curl up with him. The story is more on the romantic side and plays into a lot of insecurities for both men and women. To watch Julia's evolution into a more confident woman though was a true work of art. Ms. Major gives you enough details to be caught up in the story but not overwhelming. The only problem was that there are a couple of loose ends I would have liked to see but perhaps she is just getting ready to create a series?
Book Info:

Published February 18th 2014 by Harlequin Special Edition Series #2321
When the local police chief comes to a single mom's rescue with a pretend marriage proposal fake sparks become all too real.
Julia Morgan is in the midst of a nasty custody battle, trying to prove she provides a stable environment as a single mother for her son, Charlie. When the opposing lawyer starts to play dirty, she has a few tricks up her own sleeve–one that involves the hunky, most eligible bachelor in town.
As Brevia's police chief, Sam Callahan is used to saving others, so when he sees a cute, sassy blonde in need of help, he gladly plays hero. Not only will pretending to be her fiancee help Julia's case, it will also get his father off his back about finding the one. But what happens when pretend doesn't seem so pretend anymore?