The Homeland Trilogy featuring the stories Ask Me to Stay, Ask Me for More and Ask Me for Tomorrow.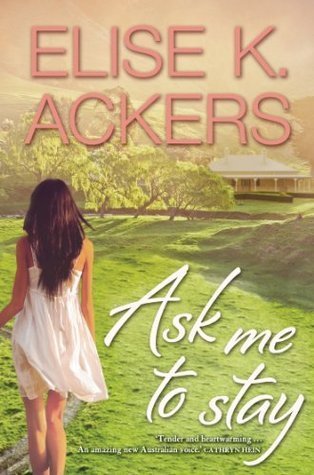 Ask Me To Stay
In Ask Me To Stay, Ethan Foster returns home for his sister-in-law's funeral. His brother Dean is devastated by his wife's death and his niece and nephew are not taking it any better. He knows that everyone expects him to leave town immediately after the funeral, who wouldn't considering that he after he left at the age of 18 after the death of his parents and only returned for special family events and left right afterwards.
Ethan already knew that he would not be easily accepted back home, he left with a bad reputation, and that is the one thing that is everything in his hometown. But he doesn't know where he stands with his family or friends either. His brother cannot look him in the eye and when he does he doesn't seem very happy with him, only this time Ethan is home to stay and help his brother no matter what.
Sam O'Hara is Ethan's childhood friend and sweetheart. She has been in love with Ethan for a long time. But she has not been able to forgive him leaving town without an explanation. And even though she says she has moved on, every time Ethan comes into town and then leaves he breaks her heart a little more.
This is not an easy romance, for Ethan has many things to face before he can get the acceptance of his brother and the town. He has always left as soon as possible, but now he doesn't want to leave and doesn't want to stay, especially since he feels like nobody wants him to stay. And the one thing that can help him be accepted is the one thing he has to keep secret forever. He will take the town's disapproval of him, but he cannot let his family or friends get hurt.
For a sweet and heartwarming romance read, don't miss Ask Me To Stay.
Ask Me For More
In Ask Me for More, Olivia Law returns home for her best friend's wedding only She is a different person from the girl that left with her parents' years ago. But that may not matter to the people in town who have a longer memory and an even bigger anger that they hold against a child that didn't know better.
Cal O'Hara remembers Liv or Lawless as they knew her in town from when they were kids. He knows that she was a handful and a troublemaker but that does not take away from the fun that she had with his sister Sam and all the other kids in town. Only now the kids that looked up to her and admired her, hate her and judge her the same way that their parents did. Now he is waiting for her to arrive on the train to help Sam plan and set a date for her wedding.
Now Liv is a sexy grown up and Cal can't keep his mind or his eyes from wandering to her. Liv is only there temporarily and if he acts on his needs and wants he may not be able to get his heart back when she leaves town again. But when faced with the actions he used to think as kind and thoughtful in a close community are going to be put into perspective when he sees firsthand how the people mistreat and ignore Liv right in front of his eyes, something that he cannot ignore no matter what.
Liv has build a strong wall around her feelings and heart in order to not be hurt again, but underneath she is still vulnerable and people hurt her without giving it a second thought. Now she has to decide if she wants to pursue and act on the attraction she's had on Cal since she was young or if to keep everything guarded in order to not get hurt.
Ask Me For Tomorrow kept me hooked with all the conflict, sexual tension and things that were going on with everyone in town. The Townspeople are busybodies and judge without giving people a second chance easily, but once they accept them into their fold they are there to protect them from whatever may come their way.
If you want a sweet, different and entertaining read, don't miss Ask Me for More.
Ask Me for Tomorrow
In Ask Me For Tomorrow, Dean Foster has been living life in a daze since the death of his beloved wife three years before, just going through the motions for his children's sake. He feels it's time to let go of the past and start again, which means expanding his auto repair shop, hiring a person to handle the front office and taking better care of his two children.
Alice Jaye has been having a hard time making ends meet for her and her son. So when the job came up for a secretary to handle all the office work in the auto repair shop she immediately applied. Everything sounded perfect, until she gets a call from school that her son was in a fight. She is prepared to go and defend her son from a bully, but ends up meeting her new boss's son and her boss when she walks into the office.
Regardless of the rocky start, Dean starts getting close to Alice's son and enjoys spending time with them. But despite her efficiency there seems to be something off about her, and there seems to be a secret she is hiding. No matter how much he wants to get close to her, she always does her best to keep him at a certain distance. But she does have her reasons for the way she acts and her decisions, even if they may not be the best ones she could have taken.
The romance between Dean and Alice is slow to develop, but I love how he started to care for her and wanted to get close to her. She was the first woman to make him want to try again, and being close to her son was a great place to start. Even if he did mess up a little here and there, having the right intention in mind, but getting the wrong result out of it. If you liked the previous books in this series you will like revisiting with Ethan & Sam and Liv & Caleb in this book. If you have not read them before, you will not feel completely left out of the story, but do note that this is the last book in the Homeland Series and you may get the previous two books whenever you want to catch up.
For a sweet romance and fast read, don't miss Ask Me For Tomorrow.
Book Info

January 29th 2014 by Penguin
A delightful collection from Elise K. Ackers, author of Small Town Storm and The Man Plan.
The Homeland Trilogy featuring the stories Ask Me to Stay, Ask Me for More and Ask Me for Tomorrow.
In small country towns, nothing is private, and escaping the past can be difficult, if not impossible. But how much of the truth does anyone ever really know, even about those closest to them?
When family tragedy brings Ethan Foster home, he doesn't expect a warm welcome. In Hinterdown reputation is everything – and Ethan's was ruined long ago. His family and friends don't want him around, and nor does Sam O'Hara, the girl he left behind.
In this moving romantic trilogy, a funeral, a wedding, and a homecoming spark a series of events that prove that love can find a way, if only given a chance.