Her Aussie Holiday by Stefanie London is the second book in Patterson's Bluff series, but I don't feel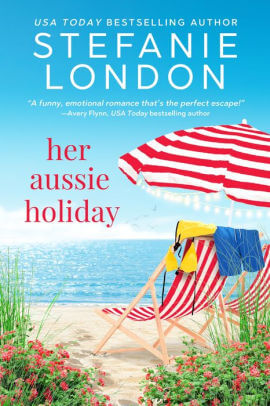 like I missed anything by not reading the first book. The book was fast-paced, flowed smoothly, and was easy to read. The setting of the series was a small-town in Australia with friendly and charming characters. My attention was caught at the beginning with all the humor and before I knew it, I was at the end. It was a perfect book for a summer day of reading.
Cora Cabot's life was chaos after her fiancé dumped her and her father who is a publisher turns down her book. When her friend Liv Walters, who lives in Australia, needs a place to stay in Manhattan during her internship, they decide it would be perfect for them to swap houses for the summer. Cora's plan was to go to Australia, work on her book, and relax. She didn't plan on having a fun-loving handsome roommate for the summer.
Trent Walters needed a place to stay and planned on staying at his sister's house while she was in America. He wanted to make some repairs to her house while she was in America and wasn't listening when she told him about the house swap. He didn't need a roommate creating more work for him by flooding the house. He was known as the easy-going brother that shield away from commitments.
Cora had spent her entire life trying to win her parent's love and respect. Trent's support and faith in her made her realize she was a talented writer and she could be successful even if her father didn't believe in her. She finally realized that she had been trying to mold herself into the person her parents thought she should be and not living her life for herself. Working and spending time with Cora made Trent change his mind on what he wanted his future to be like.
I really enjoyed reading this book and seeing the characters grow. I look forward to reading future books in this series.

Book Info:

Publication: August 25th 2020 | Entangled: Amara | Patterson's Bluff #2
The Holiday meets Property Brothers in this head over heels romantic comedy full of humor and heart, with a charming Aussie setting.
Cora Cabot's life is falling apart. So when her Australian friend announces she's secured an internship in the States, Cora has a brilliant idea: house swap! Small-town Australia sounds like the perfect getaway. Only, when she gets there, the house isn't empty. Turns out her friend's hot Australian brother is staying there, too—and he doesn't look happy to see her.
The last thing Trent Walters needs is a roommate for the summer. Especially an American who immediately floods the house and single-handedly destroys the family project his sister created for their parents' anniversary. Now, not only does Cora insist on helping fix the house, he needs her help re-creating the family scrapbook. And glitter is not his forte.
But between late nights cooking, pints at the local pub, and competitive matches of cricket on the beach, Cora starts to break through Trent's defenses. Too bad Cora made a promise to return to working with her father at the end of the summer—a promise she can't break—because this holiday is starting to feel like one she never wants to end.