Off Limits Attraction by Jayci Lee is the third story in her family dynasty series The Heirs of Hansol, a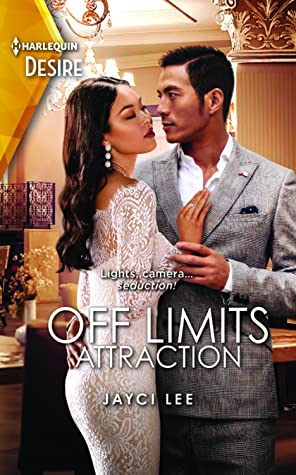 sexy and interesting romance between a filmmaker and the vice president of an entertainment company.
Jihae Park enjoys her work as vice president of Rotelle Entertainment, part of her father's Rotelle business empire but doesn't always enjoy being told what to do by her parents. She's trying to become more independent while still being respectful of them and one of those ways is taking on her own projects with the entertainment company. Her latest venture is partnering with film producer Colin Song.
Colin is intrigued by Jihae, not just because their business collaboration could mean great things for his independent films, but also because she was supposed to marry his cousin in an arranged marriage between the two Korean family dynasties. That had been broken when his cousin married for love instead and the Hansol company had suffered some corporate espionage soon after. His family is sure that the Park family is at fault and Colin feels that he should be on the lookout for anything suspicious by Jihae, who doesn't know he's part of the Hansol family and wouldn't be suspecting him of nefarious motives. As they spend time together their attraction to each other blossoms. But when Jihae finds out Colin's true motives will their romance be cut short?
This is my favourite of this series! I really enjoyed seeing the aspects of Korean culture shown by both Jihae and Colin in how they deal with their families and their businesses. Jihae is smart, talented, driven, and looking for ways to express her independence from her parents and their expectations of her as both their daughter and in her role in the business. She's excited for the new film venture with Colin that will bring Korean talent to the big screen. While she knows her parents may not approve of Colin as a prospective spouse, she still can't deny her attraction to him and they share some sexy scenes. Jihae has a business exterior that makes people view her as an ice princess but in private she likes to dress and behave casually and it's seeing her let down her guard that draws Colin to her.
Colin feels an obligation to his family to do what he can to determine if Jihae and her family are behind the corporate problems that the Hansol fashion company had. He feels a bit guilty for not going into the family business and thinks this can help him find favour with his grandmother. He wants his film company to be successful in its own right and not just because of his family connections. But he soon realizes that Jihae is too honest and forthright to be involved in any espionage. Of course things get a little more complicated and Colin's subterfuge puts a test on their burgeoning relationship. In the end they get a well deserved happy ever after. I've enjoyed all the stories in this series and definitely recommend it (and I love all the covers!).
Book Info:

Publication: Dec 01, 2020 | Harlequin Desire | The Heirs of Hansol #3
Mixing business with pleasure changes the entire script…
But that's no reason to stop…
Jihae Park's icy heiress facade is quickly melting—all because of Colin Song. A fling with the sexy film producer could jeopardize her one shot at achieving her own success—and the movie they're making together. But resistance to her searing attraction—and Colin's breathtaking bedroom skills—proves futile. Even as Colin's ulterior motives threaten to destroy their chance at a picture-perfect ending…