In Her Backup Boyfriend (The Sorensen Family #1) by Ashlee Mallory, Kate Mathews has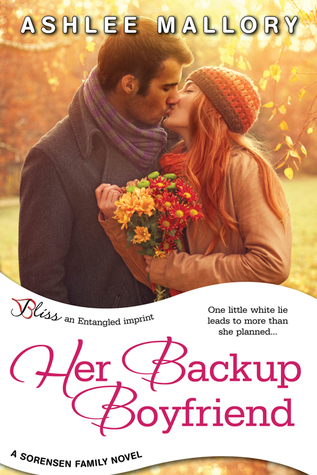 worked really hard to rise on the corporate ladder and leave her past behind. But in some cases it is not that simple, like with her ex who left her after his family didn't approve of her background. Only to get involved with another lawyer in their firm who does have a similar background as his and is approved by his family, and soon after got engaged to her.
Now Kate not only has to deal with seeing them together, she is asked to work on a case that could mean her promotion to junior associate with her nemesis. Then a little white lie slips out about her being involved with someone and the news has gotten to the higher ups. And now she has to find a man and have him pretend to be her boyfriend.
Dominic Sorensen is part of Sorensen construction and an loves to work in renovations. He was working towards getting his degree in architecture and getting more involved in renovations when his father had a heart problem and he had to return home and work with his brother in the family company. Now that the house next door to his aunt has been bought he is wondering about the inside of the house and how it looks after the last time he saw it. He knows there are many problems with renovating old houses and that some people will charge more than necessary. So when his aunt offers his services to Kate, he is curious about checking the place, but not sure if he wants to take the job. Especially with how attracted he is to Kate on first sight.
Kate doesn't want to take charity nor bother Dominic if he is busy. But when he offers to just make an estimate and have her decide what to do she can't say no. Only his offer is great and soon they are making trips to Home Depot to get things she needs for the house, and tools that will help her do things on her own and save money. Only as they are there they run into her ex and his fiancé, who immediately assumes that Dominic is Kate's boyfriend. Leading to a whole lot of complications personally and professionally. Since Kate will have to produce a boyfriend for a corporate event and now she will have to convince Dominic to be it. Little does she know that Dominic also needs a fake girlfriend to get his family off his back, but he also needs her help as a lawyer for his sister.
Things are going to get really complicated as they both begin a fake relationship with very real feelings. For as much as neither wants a relationship with the other, and they believe that they will not fit and are the wrong person, they will soon find out that what they thought they wanted may not be what they needed.
If you want a sweet and fun read, don't miss Her Backup Boyfriend by Ashlee Mallory.
Book Info:

Published January 19th 2015 by Entangled: Bliss | (The Sorensen Family #1)
One little white lie leads to more than she planned…
Straight-laced lawyer Kate Matthews always plays by the rules. But when her ex gets engaged and a big promotion is on the line at work, she blurts out that she has a new boyfriend. And now that she's proved she "has a life" outside of work, everything is perfect. Except for one teeny little detail―there is no boyfriend. And now Kate's liable for her little white lie…
Dominic Sorensen is hot, charming, and very definitely not Kate's type. But not only does Dominic want to help Kate renovate her home, he's also willing to play "boyfriend." All he wants in return is a little pro bono work for his sister. Now instead of Mr. Right, Kate has a delectable Mr. Fix-It-Right―and some unbelievable sexual chemistry. And if falling for Dominic is a breach of contract, Kate is guilty as charged…