In Her Billionaire Boss by Leslie North, Scottish billionaire Marcus Campbell is about to embark on a six-week cruise with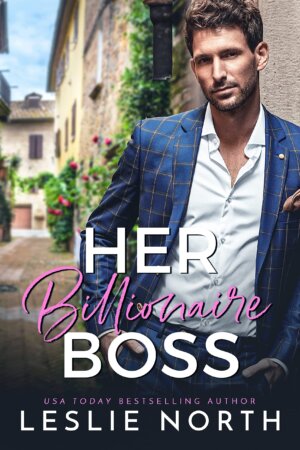 some of his family, which is really a sneaky way to get his father to a treatment center to deal with lung issues. Right before leaving, Laila Diaz, on her last day of working for child services, delivers an orphaned infant to him, informing him that the parents had named him as the baby's guardian. Marcus needs a nanny stat, and Laila needs a job, which is how she finds herself on a yacht with March and his family.
As the weeks pass by, Marcus and Laila develop a friendship, which turns into more. But with Marcus's meddling family, and Laila needing to return to New York for an interview for her dream job, can the pair find a way to make their own little newfound family work off the ship?
Marcus, Laila, and baby Grayson made a cute instant family. Marcus is hesitant to keep Grayson at first, convinced the baby would be better off with a member of his biological family, if he had any. He can't help but fall for the baby and the woman who is taking care of him though. Marcus and Laila seem to come from different sides of the tracks; he's wealthy, while Laila had come from foster care herself and was struggling to find her own way. Marcus came from a hard-working family, and made his own wealth by developing and selling apps, so he has an appreciation for Laila's hard work and determination to land a job that would allow her to help kids who were in the same position she had been in. Their romance is sweet, slow-burn, and I found myself rooting for them to make it.
There was some angst thrown into the story. While Marcus was in the wrong, Laila definitely overreacts because of insecurities she had with a past wealthy boyfriend she had recently broken up with. I thought her reaction was over-the-top and all the drama could have been avoided if she had just given Marcus a chance to explain his actions. Her reaction did leave me with some negative feelings towards her.
There's also some tension between Marcus and his father, which goes back years. For how much the tension between the two was built up throughout the book, it was resolved far too quickly once it came to a head. Marcus shows his father something and suddenly things seem better? I would have expected it to have taken a lot more than that to resolve it, considering how long their relationship had been strained.
Her Billionaire Boss has a cute baby, a new friendship that develops into more, and a Scottish family that can't keep their noses out of each other's business. Despite my issues with a couple of things in the book, I found it to be a sweet and charming romance that I feel readers will enjoy.
Book Info:

Publication: December 22, 2021 | Relay Publishing Ltd |
For most of Laila Diaz's life, nothing has gone as planned. But now, things are finally looking up. On her last day working for child services, she's scheduled to deliver an orphaned infant to his new legal guardian…grumpy Scottish billionaire Marcus Campbell.
It's immediately clear that while Marcus is capable and gorgeous, he's also in need of a nanny, especially with a family retreat on the horizon. Laila's out of a job, so he makes her an offer she can't refuse. The seductive billionaire seems almost too perfect, and his smoldering looks have her dreaming of hot kisses under the tropical sun. Too bad he's her boss…
Marcus has never met a woman as caring, sincere, and beautiful as Laila. There's something special about her…the way she looks at him, touches him, teases him. His icy front is melting. He's falling and falling hard—for both her and their new addition. Even as they enjoy paradise together, the real world still looms over the three of them, ready to burst their happy bubble.
When the holiday ends, can they build something new, something that can last? Something more than just a fantasy.