Safety in Numbers by Sophie Penhaligon: Seraphina's life changed completely when a major car accident left her with a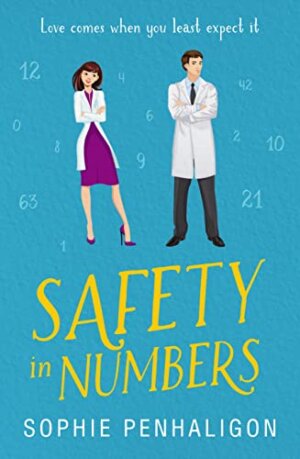 brain injury, which has put a strain on her interpersonal relationships. Faced with constant anxiety and fear of being judged Seraphina all but gave up on truly living, relegating her brilliant mathematician mind to wilt away behind her lonely cubical. That is until her boss billionaire CEO Milo Grant is in need for a new more qualified assistant, which is how Seraphina finds herself face to face with the very guy that passed a not so nice comment about her. The last thing either of them expected to actually work together so perfectly, just maybe Milo was the push that Seraphina needed to start living again.
"You're like a beautiful, intricate puzzle, Seraphina. Just when I think I've figured you out, I uncover another side of you"
This book sounded so promising with a lead female character being a woman in STEM and having a disability. I had high hopes that this would be a great and insightful read, I was slightly torn between absolutely adoring Seraphina and Milo's story and feeling that it was just lacking something. Nevertheless Safety In Numbers had its moments that I truly enjoyed.
"At that moment I knew I had to have her. I didn't care about her challenges or her past; I needed her to be mine"
I really liked the development of Milo and Seraphina's relationship, right from their awkward first meeting to developing a deep connection and friendship. Their entire courtship was incredibly sweet. I loved that once Milo learned about Seraphina's disability he went out of his way to make her feel more comfortable. Though I do wish that we got to see a bit more of development of Milo. I did like that he could relate to Seraphina especially since he had been facing his own trauma.
As for our girl Seraphina, I loved that we got to see her come out of her shell and really embrace life again, even with her disability. My only hang up with her character was that she let her disability hold her back, going so far as to isolate herself from her work colleagues.
Safety In Numbers is a slow burn, sweet little read that is filled with one steamy office romance. If you enjoyed The Love Hypothesis then this is definitely the book for you!
Book Info:

Publication: January 3, 2022 | Sophie Penhaligon |
When a tragic accident leaves mathematician Seraphina Ellis broken and despairing, she is convinced that she will live out the remainder of her life in lonely solitude. Determined to conceal her disability from her co-workers, she hides away in her desolate cubicle, crossing off the days of her life, unfulfilled and defeated.
A chance meeting with irascible but mesmerizing billionaire scientist and CEO Milo Grant provides her with the job of her dreams, and the chance of escape from cubicle land. But Grant is haunted by his own monsters and is increasingly interested in more than just her mathematical magic.
In this touching and sexually charged contemporary romance novel, Sophie Penhaligon manages to deliver a novel that is lighthearted and fun whilst dealing with the difficult topics of loss and disability.